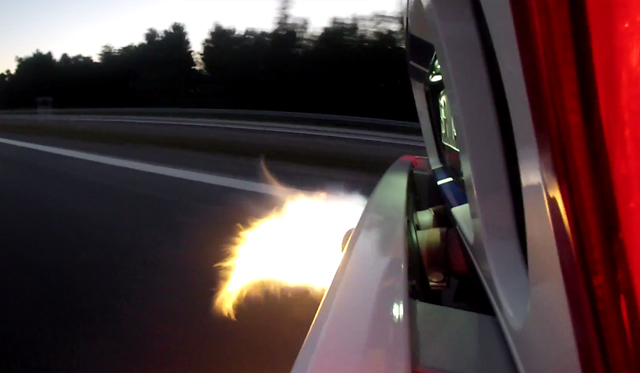 During its short production run, just over 4,000 Ford GTs were produced. It featured a supercharged 5.4-liter V8 engine mated to a 6-speed manual transmission. That power is then sent straight through the rear wheels shifting the 1,520kg mass of the Ford GT. Power totalled 55hp at 6,500rpm and 500lb-ft of torque at a modest 3,750rpm when new and consequently, the Ford GT could hit 62mph in around 3.5 seconds and an electronically limited top speed of 205mph.
However, the following Ford GT has been significantly uprated to now produce an insane 813hp at the rear wheels and the following video has been shot showcasing the breathtaking flames the car produces during wide open throttle. As the following video shows, when the driver's foot is to the floor, this insane Ford GT continually spits hot flames and when changing gears, there is literally an explosion of flames from the dual exhaust pipes. What's more, the following video actually shows the exhaust pipes bright red from heat.
At its max in this video, the 813hp Ford GT tops out an incredible 345km/h and the amazing thing about that feat is that it was achieved in just 5th gear, meaning the car has one more gear to really edge towards the 400km/h mark!