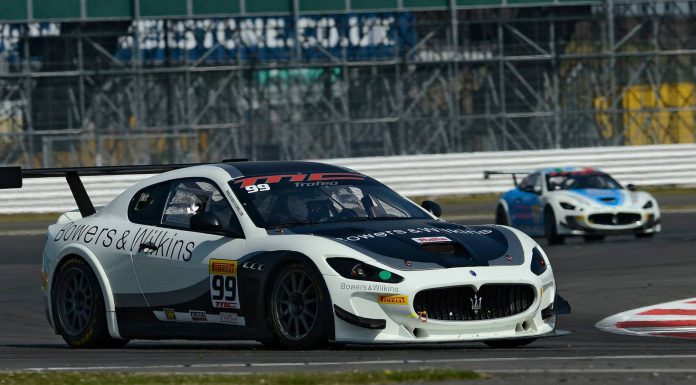 The Maserati Trofeo MC World Series completed its third round at the Silverstone circuit in the UK this previous weekend. And it was Renaud Kuppens, from Konvex Motorsport who scooped the win in this round, his first win of the 2013 season. The winner is always choosen on the basis of points, the one with the highest number of points at the end of the three European rounds as the next round will be in USA. The European rounds are all finished for the year.
The qualifications were done quite well, during race 1 qualification race, Andrea Cecchellero won pole position taking battling it away from Renaud Kuppens. Race 2 qualifications saw Alberto Cola scoop the pole position.
During race 1, Kuppens the overall winner lost to Andrea Cecchellero. Race two was interesting as it was Alberto Cola who crossed the line first, followed by Kuppens and Mac. Later the officials penalized the first three finishes by slamming 25 seconds to each. This gave Brian Wong a maiden win. The penalties had been handed out for their exceeding the track speed limit.
Race 3 ended with Renaud Kuppens finishing first, he said;
It was difficult but I pulled it off: I managed to win on a circuit that was really hard to drive, even though I was in pole. It is not one of my favourites. For the first time this year victory came in the endurance race, perhaps because I didn't have to spend any extra time in the pits". » 3 ended with Kuppens on the top.
The next round will take place at Sonoma in the US, famous for one of only five national NASCAR races each year that are run on road courses. This race will take place on 25th August, next will come Shanghai, China, and Abu Dhabi on 14 December.
Race 3 Results (Top 10)
N° DRIVER TIME
01 1 Renaud Kuppens 50'00.592
02 32 Ange Barde + 6″214
03 23 Riccardo RagazziI/ Alan Simoni + 23″096
04 22 Mikkel Mac + 38″155
05 14 Adrien De Leener + 39″437
06 41 Alberto Cola/ Patrick Gobbo + 47″358
07 66 Fabio Venier/ Andrea Gardelli + 51″627
08 46 Mauro Cesari/ Brian Wong + 52″167
09 24 Pierre Marie De Leener / Cedric Sbirrazzuoli + 54″729
10 7 Giuseppe Fascicolo/ Andrea Cecchellero + 1"1″021