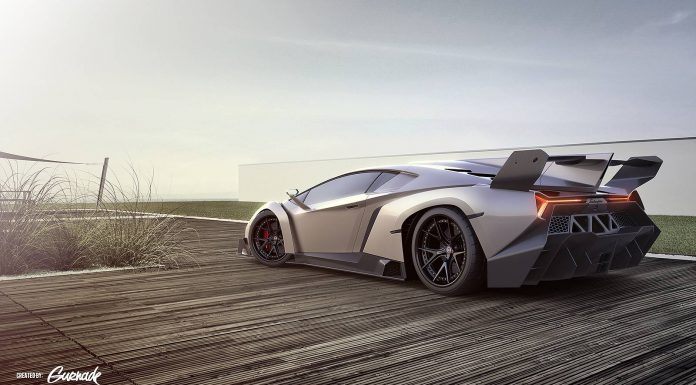 The team at Gurnade recently finished rendering the outlandish Lamborghini Veneno rolling on a set of HRE wheels and at a stunning setting.
As the following image shows, the HRE S101 aftermarket wheels really suit the overall look of the Lamborghini Veneno but due to the fact that just three Lamborghini Venenos are destined for private use, it's unlikely any of those owners will tinker with what is arguably Lamborghinis most insane supercar ever produced.
The Lamborghini Veneno features a twelve-cylinder power unit with a displacement of 6.5 liters, an extremely fast-shifting 7-speed ISR transmission with 5 driving modes and permanent all-wheel drive, as well as a racing chassis with pushrod suspension and horizontal spring/damper units. Above all, however, the Veneno benefits from the very special expertise that Automobili Lamborghini possesses in the development and execution of carbon-fiber materials – the complete chassis is produced as a CFRP monocoque, as is the outer skin of this extreme sports car. The inside, too, features innovative, Lamborghini-patented materials such as Forged Composite and CarbonSkin.
Fully in keeping with the tradition of the brand, the name of the Veneno originates from a legendary fighting bull. Veneno is the name of one of the strongest and most aggressive fighting bulls ever. He is also famous for being one of the fastest bulls in the history of bullfighting. His name became popular in 1914, when he fatally wounded the famous torero José Sánchez Rodríguez during the bullfight in the arena Sanlúcar de Barrameda's, Andalusia, Spain.
[Via Gurnade]