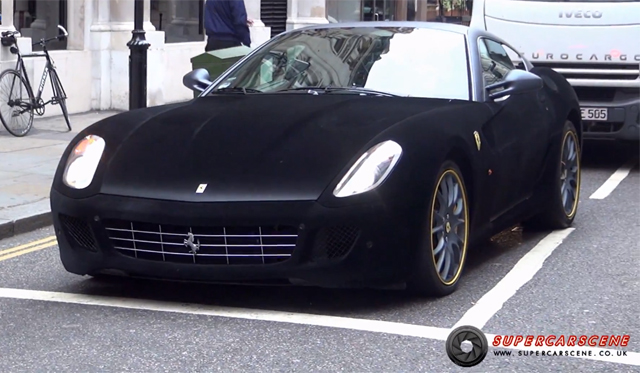 For the past few years, wrapping supercars or ordering them straight from the factory in matte finishes has really gained in popularity. The latest emerging trend appears to be wrapping supercars in dark shades of velvet, and the following velvet wrapped Ferrari 599 GTB was recently spotted cruising the streets of London by supercarsoflondon.
It almost feels like yesterday when matte finished paint jobs were the talk of the automotive town as their popularity eventually led to all sorts of car manufacturers offering the unique paint job, such as Lamborghini, BMW, Mercedes-Benz and even the likes of lower-end manufacturers like Hyundai. However, a selection of sports cars and supercars have recently surfaced wrapped in the high-end material better known for its use in furniture and clothing.
As you probably already know, the Ferrari 599 GTB was recently replaced by the even more impressive Ferrari F12 Berlinetta, but the 599 still remains an extremely impressive supercar. Featuring a 6.0-liter V12 engine coupled to either a 6-speed sequential or 6-speed manual transmission driving the rear wheels, the Ferrari 599 GTB is a true performance car. It produces 612hp and 448lb-ft of torque meaning the car can consequently hit 100km/h in just 3.7 seconds and onto a top speed in excess of 205mph.