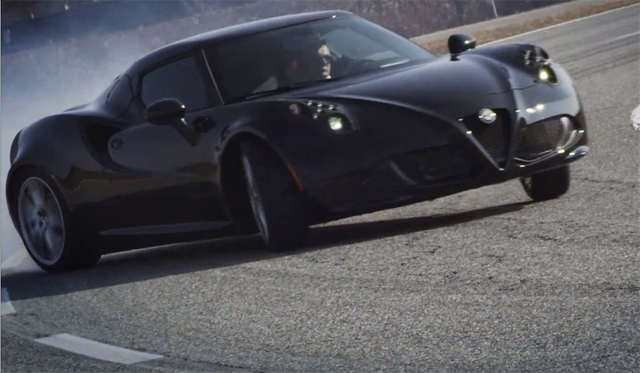 Alfa Romeo has just released an intoxicating video of the Alfa Romeo 4C testing in the rain at the Balocco Race Track with the car's performance capabilities and drifting abilities being on show perfectly!
Alfa Romeo recently revealed additional details about its brand new Porsche Cayman rival, the Alfa Romeo 4C, confirming that it'll tip the scales at just 895kg, making it by far the lightest car in its class!
To put that in perspective, that's an amazing 400kg lighter than the Porsche Cayman S which is actually similarly-sized to the Alfa Romeo 4C. This incredible weight figure of 895kg has been achieved through the use of advanced materials, with one of the most notably weight-saving features being the carbon fiber monocoque which weighs just 65kg.
http://www.youtube.com/watch?feature=player_embedded&v=qtICrELS1ks#at=62
Furthermore, the Alfa Romeo 4C features hybrid brakes which weigh an impressive 2kg less each than standard discs, as well as thinner windows and lightweight plastic bumpers and wings. These weight saving measures are complemented further by the fact that the Alfa Romeo 4C's body isn't made from sheet steel, and is rather constructed for a material dubbed Sheet Moulding Compound which is 20% lighter while also being corrosion resistant.
As a reminder, the Alfa Romeo 4C features a 1.75-liter four-cylinder turbocharged engine delivering 237hp. While such a powertrain doesn't sound all that impressive, the 895kg dry weight of the Alfa Romeo 4C will make it sprint to 62mph in just 4.5 seconds, which is four-tenths quicker than a Porsche Cayman S equipped with the expensive PDK transmission!