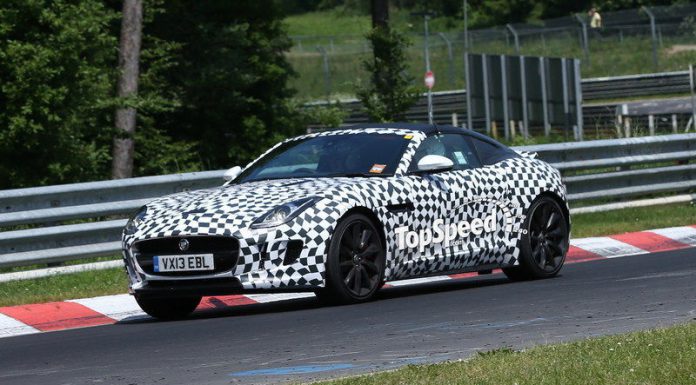 Not long after supposed patented images of the 2014 Jaguar F-Type Coupe were leaked online, new spy shots have emerged depicting the hardtop variant of the brand new Jaguar F-Type undergoing high-performance testing at the infamous Nurburgring.
For sports cars such as the Jaguar F-Type, the hardtop version is usually launched first followed by a convertible version a few years down the track. However, that's obviously not the case for the Jaguar F-Type, but the coupe variant is expected to be almost identical to the roadster albeit with a fixed roof. Consequently, the Jaguar F-Type Coupe will look almost identical to the Jaguar C-X16 Concept from a couple of years back.
Because the Jaguar F-Type Coupe will be almost identical to its convertible sibling, it's expected to be offered with the same three engines as the current car. These include the base model powered by a 3.0-liter supercharged V6 engine producing 340hp, a Jaguar F-Type V6 S Coupe predicted to deliver the same 380hp as the roadster variant thanks to its identical uprated 3.0-liter supercharged V6 powerplant.
Topping out the Jaguar F-Type Coupe range will be a Jaguar F-Type Coupe V8 S fitted with a mighty 5.0-liter supercharged V8 engine delivering an insane 495hp.
The Jaguar F-Type Coupe is expected to hit the market sometime next year.
[Via Top Speed]