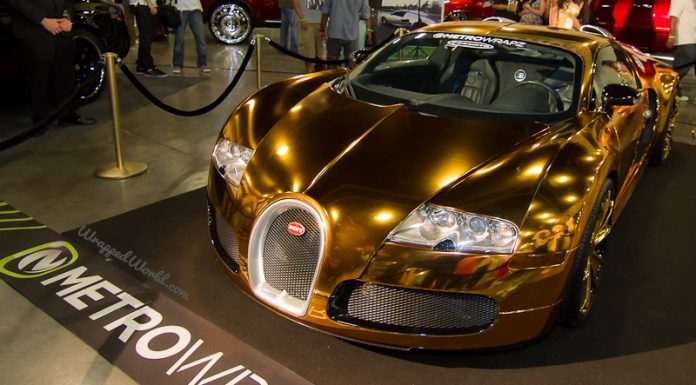 Singers are well-known for owning some of the most unique and outlandish exotic cars on the planet. Whether that be Justin Bieber and his new leopard-print Audi R8, his chrome Fisker Karma or the Bugatti Veyron Drake recently took ownership of, the stars of the music industry love nothing more than standing out from the crowd. This point is further evidenced by Flo Rida's Bugatti Veyron which recently received a dramatic gold chrome wrap courtesy of Metro Wrapz.
Flo Rida's Bugatti Veyron originally left the factory in pearl white, and was quickly wrapped in a standard chrome finish. However, this new gold chrome finish combined with the gold chrome wheels makes this Bugatti Veyron one of the most unique in the world. In fact, Flo Rida's Bugatti Veyron is rolling on a set of massive 24-inch, 24 karat gold Forgiato wheels!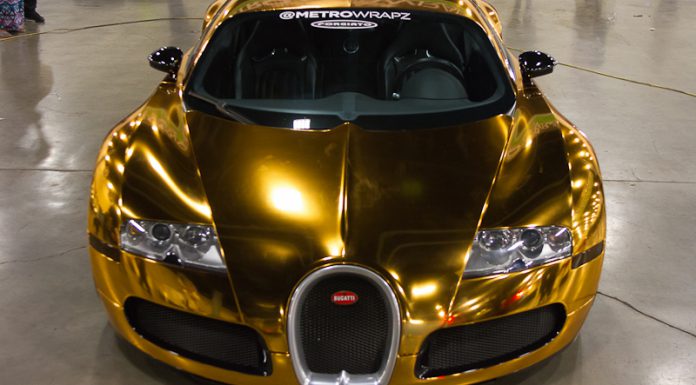 As mentioned the wrapping was done by the team at Metro Wrapz who have years of experience in wrapping cars in chrome finishes as well as dealing with celebrities. In the past, Metro Wrapz have worked with the likes of Lebron James, Rashad Jones, Dwayne Wade and Pitbull. What's more, it's believed that Metro Wrapz have wrapped over 10,000 cars and one London Bentley owner went as far as shipping his Bentley to the U.S. just for a Metro Wrapz conversion!
[Via Wrapped World]