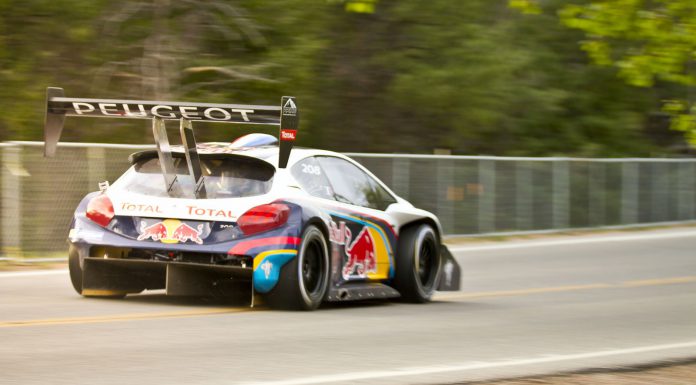 The Pikes Peak Hill Climb 2013 takes place on Sunday 30th of June 2013 but the event already kicks off on Monday June 25th with participant registration and the first practice round on Tuesday June 26th. Over the course of the Pikes Peak Race Week as its dubbed by the organizers the participants have multiple practice, qualifying and setup runs to make sure they are ready for the ultimate challenge; race day.
Last weekend there was also a test day and many teams used it to test their machines. Our reader Nam Phan was on site to shoot the cars in action and you can find his work in the gallery below! Some of the favorites for this years Pikes Peak Hill Climb include Rhys Millen with the Peugeot 208 T16 Pikes Peak, Hyundai PM580T and Mitsubishi MiEV Evolution II.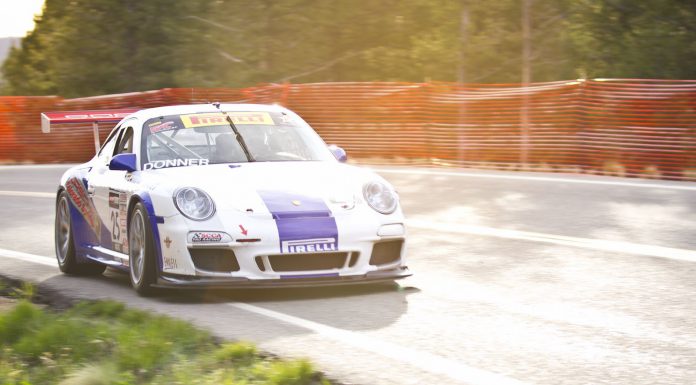 The Pikes Peak International Hill Climb is the second oldest motor sports race in America and a long-standing tradition in Colorado Springs and the Pikes Peak Region. First competed in 1916 and this year marks the 91st running of the "Race to the Clouds."
The race is run on a 12.42 mile course with 156 turns that begins at 9,390 feet and finishes at the 14,110 foot summit of America's Mountain; Pikes Peak! As the drivers climb toward the summit, the thin air slows reflexes and saps muscle strength. The thin air also robs engines of 30% of their power at the summit. Competitors and vehicles must be in top shape simply to finish, let alone win!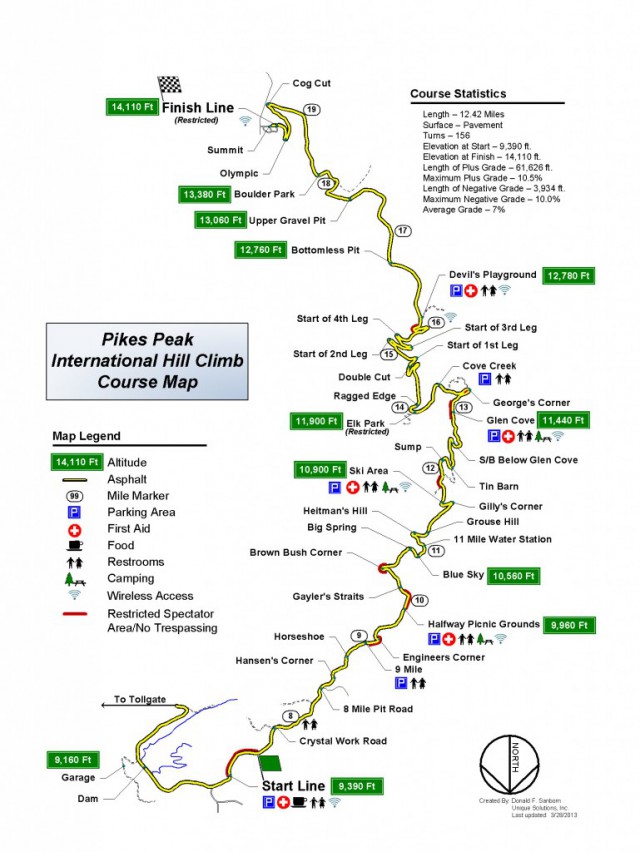 The current record is 09:46.164 and was set by Rhys Millen in 2012.
There is no other race course in the world like the Pikes Peak International Hill Climb. That is why it attracts race crews that are willing to spend several hundred thousand dollars and months of preparation to compete for the right to be the King of the Mountain.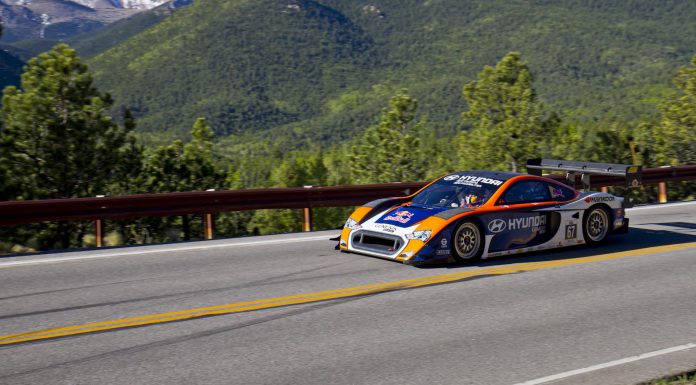 Pikes Peak Hill Climb 2013 Participant List
Name Division # Country Car
Ikuo Hanawa Electric 8 Japan 2011 Summit HER-02
Janis Horeliks Electric 100 Latvia 2013 eO PP01
Rod Millen Electric 76 USA 2013 Toyota TMG EV P002
Tajima Nobuhiro Electric 1 Japan 2013 E-RUNNER Pikes Peak Special
Roy Richards Electric 24 USA 2013 Honda Fit-EV
Greg Tracy Electric 34 USA 2013 Mitsubishi Motors MiEV Evolution II
Hiroshi Masuoka Electric 32 Japan 2013 Mitsubishi Motors MiEV Evolution II
Kenshiro Gushi Exhibition 9 USA 2013 Lexus IS F CCS-R
Sage Marie Exhibition 93 USA 2012 Honda CRZ
Simon Pagenaud Exhibition 770 USA 2011 Honda Odyssey
Donner Billingsley Open Wheel 40 USA 1996 Wells Coyote
Andy Figueroa Open Wheel 71 USA 2005 Figwood 2005 Open
Dan Novembre Open Wheel 28 USA 2013 Wells Coyote MAC Autosport GTM 350T
Rodney O'Maley Open Wheel 65 USA 2012 O'Maley Special Spec II
Chris Strauch Open Wheel 56 USA 2010 Wells Coyote Stracoyote II
Clint Vahsholtz Open Wheel 18 USA 2013 Ford Open
Dave Wood Open Wheel 11 USA 1981 Wells Coyote
Gregoire Blachon Pikes Peak Open 20 France 1996 Subaru Impreza Boxer Diesel
Ed Gaven Pikes Peak Open 62 USA 2003 Factory Five Racing Challenge Series Racer
Will Hunholz Pikes Peak Open 118 USA 2012 Ford Boss 302
Jeff MacPherson Pikes Peak Open 6 USA 2014 Porsche 914-8
Rod Moberly Pikes Peak Open 21 USA 2002 Chevrolet Camero
Kevin Murdock Pikes Peak Open 50 USA 2007 Chevrolet 1500
Robert Prilika Pikes Peak Open 25 USA 2010 Porsche GT3 Cup
James Robinson Pikes Peak Open 902 USA 1991 Acura NSX
Mike Ryan Pikes Peak Open 777 USA 2008 Freightliner Pikes Peak Special
David Schmidt Pikes Peak Open 26 USA 2008 Ford Mustang GT
Layne Schranz Pikes Peak Open 7 USA 1999 Chevrolet Monte Carlo
Randy Schranz Pikes Peak Open 17 USA 2013 Shelby Cobra
Jonn Baird Pikes Peak Vintage 395 USA 1972 Porsche 914/6
Ralf Christensson Pikes Peak Vintage 372 Sweden 1967 Ford Fast Back GT 350
Levi Jones Pikes Peak Vintage 369 USA 1965 Ford Mustang
Christopher Lennon Pikes Peak Vintage 167 USA 1973 Porsche 911 RSR
Ralph Murdock Pikes Peak Vintage 30 USA 1970 Chevrolet Camero
John Jack Rogers Pikes Peak Vintage 365 USA 1965 Ford Falcon
Dan Rose Pikes Peak Vintage 554 USA 1967 Porsche 911
Takeshi Aizawa Time Attack 110 USA 2011 Scion tC
David Donner Time Attack 2 USA 2008 Porshe GT3 Cup
Sead Causevic Time Attack 79 Canada 2013 Scion FR-S
Andrew Comrie-Picard Time Attack 888 USA 2013 Scion xD
Scott Crouch Time Attack 429 USA 2004 Subaru WRX
Paul Dallenbach Time Attack 98 USA 2013 Hyundai Genesis Coupe
Marthyn Decker Time Attack 99 Brazil 2008 Subaru STI
Noel De Los Reyes Time Attack 174 USA 1998 Audi A4
John Edwards-Parton Time Attack 199 UK 2003 Mini Cooper S
Jeremy Foley Time Attack 463 USA 2012 Mitsubishi Evo
David Hackl Time Attack 5 USA 1983 Audi A1 Quattro
Tim Hardy Time Attack 326 USA 1987 BMW 325
David Kern Time Attack 156 USA 2005 Mitsubishi Lancer Evolution
Jamie Melhuish Time Attack 317 USA 1994 BMW 318iS
David Rowe Time Attack 75 England 2005 Mitsubishi EVO 9RS
Brian Shanfeld Time Attack 64 USA 2012 Acura TL
Kash Singh Time Attack 78 USA 2008 Ford Shelby GT 500
Fred Veitch Time Attack 73 USA 2001 Porsche 996 Turbo
Jerad Voight Time Attack 77 USA 2010 Chevrolet Camaro SS RS
Robert Walker Time Attack 86 USA 2013 Scion FR-S
Thomas Wright Time Attack 15 USA 2003 Mitsubishi Evolution
Toshiki Yoshioka Time Attack 104 USA 2013 Subaru BRZ BRZ
Jeff Zwart Time Attack 111 USA 2007 Porsche GT3 Cup
Kris Antal Unlimited 23 Hungary 2013 Krispeak KA14
Dave Carapetyan Unlimited 959 USA 2013 Rally Ready PP9
Jean-Philippe Dayraut Unlimited 3 France 2011 Mini Countryman
Pat Doran Unlimited 46 UK 1986 Ford RS200
Steve Goeglein Unlimited 27 USA 2002 Chevy Camaro
Jimmy Keeney Unlimited 69 USA 2012 Chevrolet Colorado
Sebastien Loeb Unlimited 208 France 2013 PEUGEOT 208 T16 Pikes Peak
Cody Loveland Unlimited 37 USA 2013 LoveFab Enviate
Rhys Millen Unlimited 67 USA 2013 Hyundai PM580T
Mark Rennison Unlimited 200 UK 1986 Ford RS 200 Evolution
Doug Siddens Unlimited 101 USA 2009 Polaris RZR-X
Romain Dumas Unlimited 911 Switzerland 2013 Norma M20FCPP
Spencer Steele Unlimited 88 USA 2013 PVA PVA
Read more about Pikes Peak Hill Climb 2013!