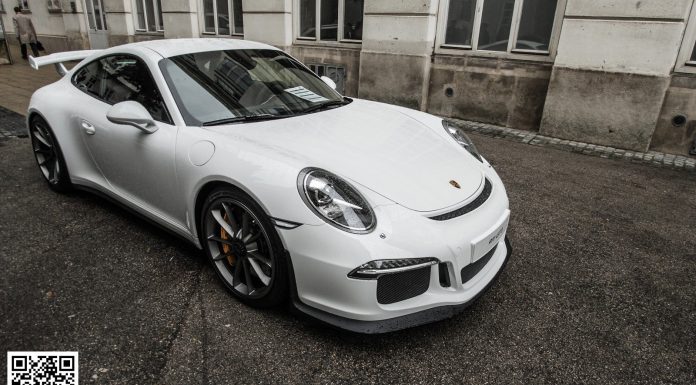 The Porsche 991 GT3 made its debut at the Geneva Motor Show 2013 and a second appearance for its North America debut at the New York Auto Show 2013. The Porsche 911 celebrates its 50th anniversary in 2013!
The car has recently made another appearance in Vienna, Austria at the Vienna University of Technology. Thankfully, photographer xdefxx was on location and he managed to snap a few photos. This was during a visit which VW boss Hon. Dr. Ferdinand K. Piëch had paid to the university. He was there to give a lecture on Innovation Management II. He goes there every year for this lecture, but also, this is his birth town.
Apart from this Porsche 991 GT3, there was also a Bugatti Veyron Grand Sport Vitesse WRC, a Lamborghini Aventador Roadster and others. Basically, when he comes to the town, he carries along his toys to show them around to the people.
Just a recap on the Porsche 991 GT3; its engine, transmission, body and chassis are entirely new. The Porsche 991 GT3 gets a 3.8-litre flat engine developing 475hp at 8,250 rpm. It is an adaption of the engine used in the current generation Porsche Carrera S but with only a few common parts. The engine weighs around 25 kg less than the previous unit with a power output of 125 hp/litre of displacement.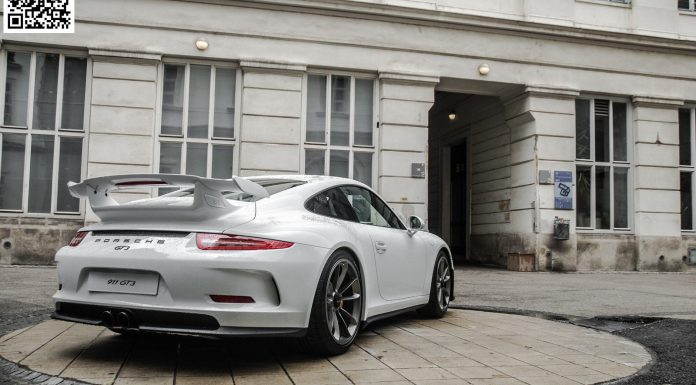 Performance is as follows, 0 to 100km/h is passed after just 3.5 seconds, and 200km/h in less than 12 seconds. The top speed of 314km/h is reached in seventh gear of the PDK transmission. The lap time on the Nürburgring-Nordschleife was a very impressive 7:30 minutes. The last statistic is particularly important. Around 80 per cent of Porsche 991 GT3 customers also drive their cars on race tracks.
Check out the video below too, with some revs and accelerations of the sports car.