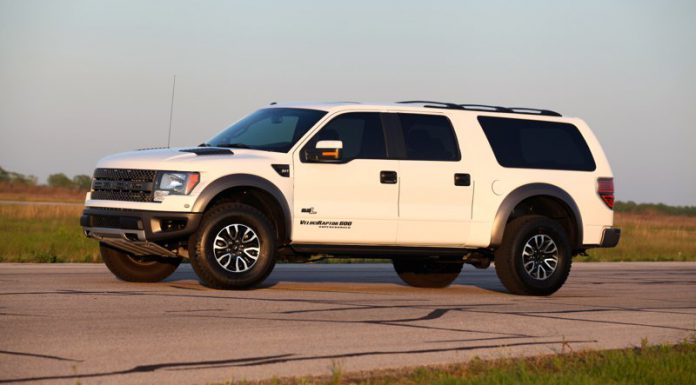 The Ford F-150 Raptor is definitely one of those trucks that one would love to own for both on road and off road. When tuners like Hennessey Performance incorporate their tuning programs into it, the truck turns into a monster, giving competition to most tuner cars of its class. They did that when they introduced their VelociRaptor 600, fitted with a proper supercharger upgrade developing 605bhp at 5,600rpm.
In their latest build still based on the VelociRaptor and VelociRaptor 600, Hennessey have converted the truck into a full-sized SUV adding more sitting capacity-8 people! This is what Don Goldman; CEO of Hennessey Performance had to say about it;
Over the past three years we have built nearly 400 upgraded Raptor trucks for enthusiasts around the world. We are now very excited to be able to offer the VelociRaptor SUV to those who like the Raptor but want more seats and space.
Hennessey says that the SUV has not been tested for off-road and that buyers should stick to on road and mild off-road at the least. In that regard, company founder, John Hennessey said;
Don't plan on pre-running Baja or negotiating Rubicon with our SUV – that is not why we built it. But, if you're looking for the ultimate vehicle to drive from Aspen to Telluride in January, the VelociRaptor SUV would be perfect.
The SUV will be offered at a price of $149,500 and only 30 will be made each year. They are powered by the normal 6.2L 411 bhp Ford V8 engine but those willing to get the VelociRaptor 600 package will get it at an additional price.
The VelociRaptor 600 Supercharged upgrade includes centrifugal supercharger system, air-to-air intercooler, high flow K&N air filter, fuel injector upgrade, stainless steel long tube headers, high flow catalytic converters and a stainless steel cat-back exhaust
Fitted with the supercharger, the VelociRaptor 600 matches the power of a Mercedes-Benz G65 AMG which has 604hp. It will do a 0-97km/h in 5.9 seconds.