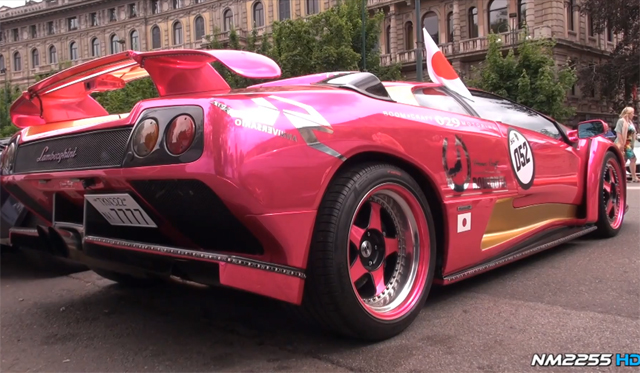 A very unique and what could only be described as an overkill example of a Lamborghini Diablo GT was recently filmed by NM2255 at stage one of Lamborghini's 50th anniversary Grande Giro.
This particular Lamborghini Diablo GT is the 'full package' as it has both some awesome aftermarket features as well as some simply horrible ones.
Let's start with the good ones shall we? Well, most impressively, this Lamborghini Diablo GT has been fitted with an insane Power Craft exhaust system which simply sends the exhaust note of the car into an entirely new universe from the stock car.
Unfortunately however, that's where the good features stop. The car has been outfitted with a gloss pink vinyl wrap, pink and silver wheels, stupid flashing LED lights underneath the grilles as well as colored LEDs under the car and in the interior.
Here's hoping the car was only transformed to this monstrosity temporarily!