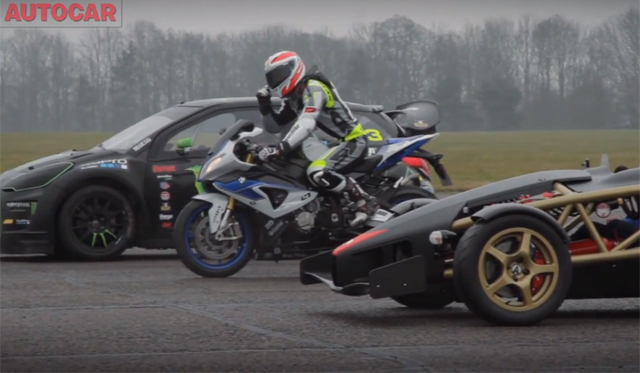 Which is fastest over a quarter mile sprint; an Ariel Atom 500, a BMW HP4 superbike or a Citroen DS3 rallycross car?
Well, Autocar recently set about answering that question when they brought all three vehicles to an abandoned runway in the U.K. and despite the rainy conditions, it makes for a thoroughly enjoyable video.
On paper the 550kg, 475hp Ariel Atom 500 certainly appears to be the quickest of the trio however, the BMW HP4 still manages to pump out an insane 200hp while the Citroen DS3 rallycross car pumps out around 570hp in the state of tune which Autocar tested it in.
Consequently, the stage is set for an extremely tight battle and with the exception of one competitor being left behind, that's what it turns out to be!