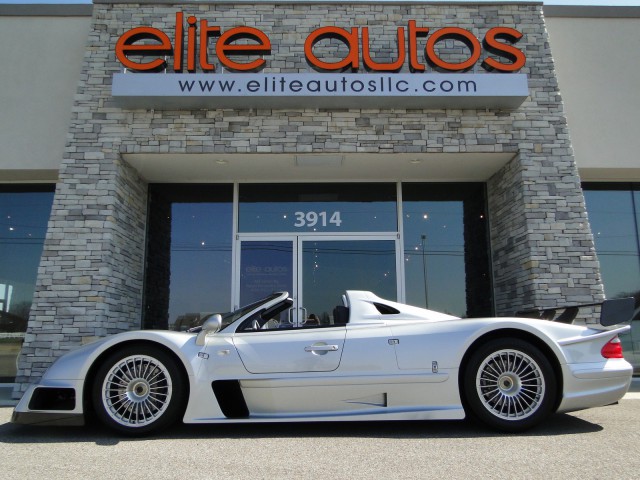 The Mercedes-Benz CLK GTR has a history both on the road and on the track, but it's better off to start with the track where it all began. A car known for putting Mercedes-AMG on the charts of motorsports, it was designed for one purpose-going fast! This was after DTM came to a stop in 1996 and Mercedes had to find competition elsewhere, that's when AMG engineers worked on the Mercedes-Benz CLK, put a V12 in it and covered with the bodywork made of carbon fiber.
The car would be very successful in the 1997 FIA GT Championship Season, gathering six wins and that meant ending the winning streak of the McLaren F1 GTR. Coincidentally, this car had been built against the McLaren F1 GTR, having that the engineers secretly bought the F1 GTR for comparisons while building the CLK GTR.
When time came for the CLK LM to replace the CLK GTR in the 1998 season, Mercedes went ahead to build 26 road going CLK GTRs. Out of these 26, 6 of them were roadsters and one of the six roadsters was a RHD built for Hassanal Bolkiah, the Sultan of Brunei who also owned a coupe in RHD too. Out of the remaining five roadsters, one of them is what you see above, the only one in the United States.
This particular 2002 Mercedes-Benz CLK GTR Roadster was spotted at Elite Autos, a luxury car dealer in Jonesboro, Arizona. The car is on sale for $1,995,980 at has only 70 miles on it! These cars were powered by an unrestricted 6.9 liter V12 engine delivering 604hp and 755 Nm of torque, with a 0-100 in 3.8 seconds all the way to a top speed of 320km/h. The Super Sport variant had the 7.3 liter V12 used in the Pagani Zonda and that meant a total power of 655HP.
The Mercedes-Benz CLK GTR was the most expensive car at the time, selling at $1,547,620, remember; that in order to meet FIA homologation rules, Mercedes had already built one road going CLK GTR in 1997 alongside the race cars. The roadsters would of course sell at a higher price than that of the coupe. This car has more than just history, it's a masterpiece inspired by racing DNA from both the CLK GTR race car and the McLaren F1 GTR, and it's bewildering!
This tip off was gladly sent to us by Jason Leno! Interested persons may make reach the dealer through here.