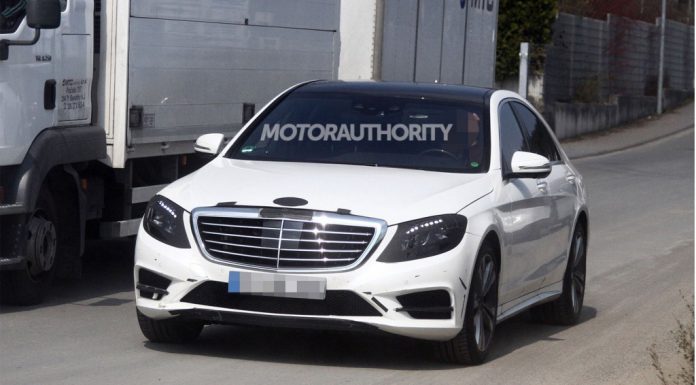 After revealing the interior of the 2014 Mercedes-Benz S-Class a few weeks ago, Mercedes-Benz have continued development of its premium luxury sedan with prototypes now wearing next to no camouflage.
The following white 2014 Mercedes-Benz S-Class was recently spied undergoing final testing with just a few strips of black tape covering up the lights and a few other minute details on the car.
As a result of this, the images give us our best look at the 2014 Mercedes-Benz S-Class thus far with the LED daytime running lights being clearly seen through the black tape. Additionally, a much larger front grille is evident.
This particular prototype was spotted near the Nurburgring in Germany, although it's currently unclear what specification this vehicle is.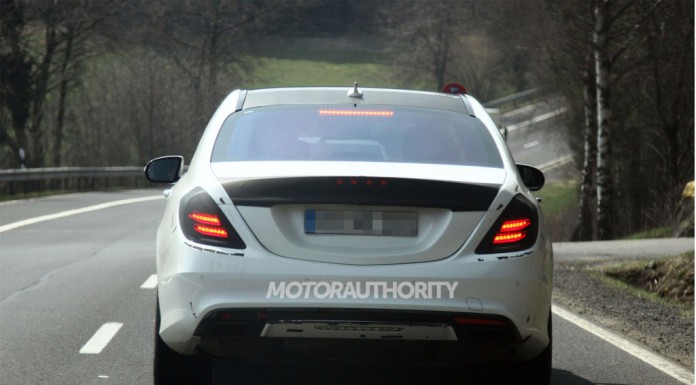 It could either by the new S550 which is set to feature a twin-turboV8 delivering 429hp or the S600 with its twin-turbo, 510hp V12 engine. One thing's certain and that is that this is not the upcoming S63 AMG which will feature a much more aggressive bodykit.
The 2014 Mercedes-Benz S-Class will be revealed next month so stay tuned for that!
[Via Motor Authority]