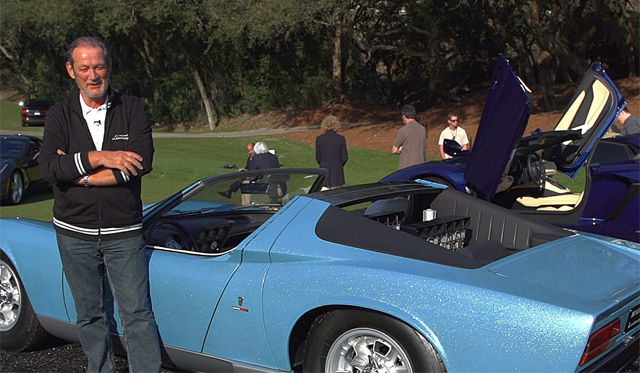 At the recent Amelia Island Concours d'Elegance 2013, the team from Jay Leno's Garage headed down to the historic event to ask former chief test driver of Lamborghini, Valentino Balboni and head of Lamborghini's American operations, Michael Locke some questions about the company.
As I'm sure you know already, 2013 marks the 50th anniversary of Automobili Lamborghini and with the United States being Lamborghini's biggest market, celebrating the company's anniversary at Amelia Island was only appropriate.
The clip goes through the now infamous story of how Valentino Balboni got involved with the company, with Michael Locke then showcasing one of the most unique Lamborghini's ever created; the one-off 1968 Lamborghini Miura Roadster Concept which debuted at the 1968 Brussels Motor Show.
http://www.youtube.com/watch?v=AS2QdjN-_d0
The 1968 Lamborghini Miura Roadster was a revolutionary supercar at its time as it featured no roof and no side windows, with the only piece of glass being the sweeping front windscreen.
To top it all off, Jay Leno reveals at the end of the video that he had the opportunity to purchase that very vehicle and could have now owned a priceless piece of Lamborghini engineering!