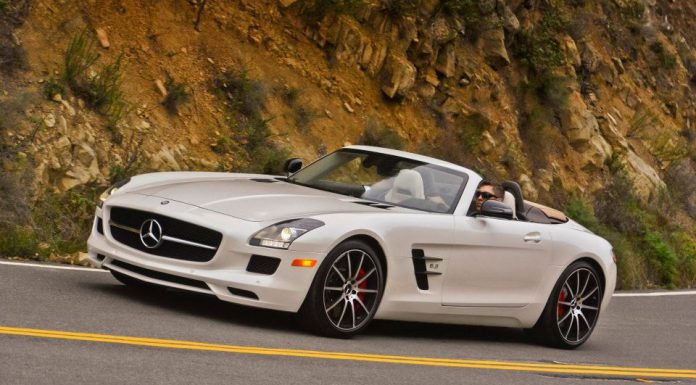 The Mercedes-Benz SLS AMG GT Roadster is still among the new models offered by Mercedes, and we are well familiar with it since it's a facelift of the Mercedes-Benz SLS AMG roadster, it received enhancements to driver dynamics, increased power, modifications to the gearbox and further interior options.
Mercedes-Benz USA have revealed a gallery of the 2013 model describing it as the ultimate drop top. Among the notable changes in the GT model over the former SLS AMG include AMG ride control coupled with its twin aluminum wishbone suspension and all round and variable, electronically controlled damping. The GT comes with ten-spoke, 19 inch alloy wheels up front, with 265/35 tyres, and 20 inch wheels at the rear, with 295/30-series tyres. To distinguish the SLS GT, features will include darkened headlamps and tail lights, red-painted brake callipers, and a unique set of body parts.
Engine modifications include in-engine dethrottling measures and an increase in peak pressure. The maximum output of the AMG 6.3 liter V8 rises to 591hp at 6,800rpm and 650Nm of torque at 4,750rpm, a 28hp increase over the outgoing model. Mercedes engineers have also fitted an optimised AMG Speedshift DCT seven-speed sports transmission with fastershift times and better control overall. The SLS AMG GT accelerates from zero to 100km/h in 3.7 seconds, and can reach a speed of 200km/h in 11.2 seconds. Top speed is an electronically limited 320km/h.