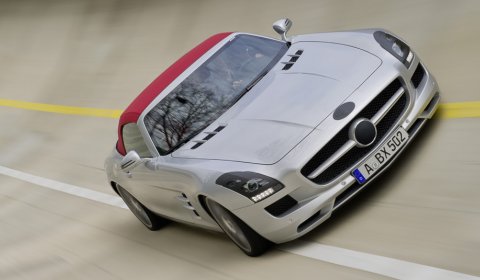 The brand new open-top Mercedes-Benz SLS AMG Roadster is the second car to be developed independently by AMG and the spiritual successor to the Mercedes-Benz 300SL Roadster.
There are still six months to go before the world premiere at the International Automobile Show in Frankfurt in September 2011. Time enough to release the new SLS AMG Roadster to the public and to shed some light on the development of the car and changes with respect to the coupe.
The roadster variant was already taken into consideration during the conceptual phase for the SLS AMG, the lightweight and extremely rigid aluminum spaceframe was specified at a correspondingly early stage. Due to the lack of a fixed roof and gullwing doors, it was necessary to design the side skirts more robustly.
In order to achieve handling dynamics identical to the coupé – without a fixed roof – the roadster has two features designed to increase the rigidity of the bodyshell: the cross-member carrying the dashboard has additional supporting struts at the windshield frame and at the center tunnel, and a structure between the soft top and the tank stiffens the rear axle. Because of this rigidity, the soft top can be opened and closed electrohydraulically at speeds up to while on the move at up to 31mph.
The convertible SLS AMG has a reinforcing cross-member behind the seats which supports the fixed rollover protection system. The 250-watt subwoofer of the Bang & Olufsen BeoSound AMG sound system is located in the cross-member rather than the parcel shelf of the Coupe.
The three-layer fabric soft top of the SLS AMG Roadster, which is stored behind the seats in a Z-formation to save space, is also relevant to handling dynamics, according to the Germans. This weight-optimized magnesium/steel/ aluminum construction provides a low center of gravity and is designed for speeds up to the maximum of 197mph.
The engine is kept similar to the coupe. The liquid-cooled V8 Four-stroke 6.3 liter engine produces 563hp at 6,800rpm and 650Nm at 4,750rpm.
Stay tuned for more in September during the IAA 2011.