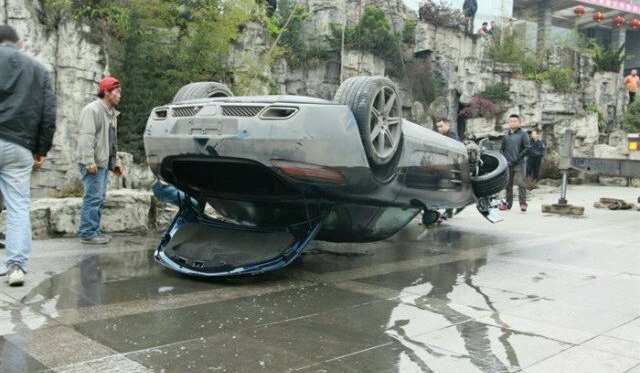 This must be an SLS owner's worst nightmare, ending up on your roof in a pond. Yet this nightmare turned into a reality for a Chinese driver. We've managed to find a few pictures of a recent Mercedes-Benz SLS AMG accident that could have ended very badly.
We don't have any details on how the accident happened. We do know that the pond in the pictures is located in Liupanshui, a busy city in South China. It appears that the driver of the SLS AMG lost control of the car on an adjacent road. He then hit the kerb which sent the car flying, roof first, into the pond.
Fortunately we are told that the driver managed to get out of the car alive. The Mercedes-Benz SLS AMG has a mechanism designed for situations like this. The design features two hinges per door and a pyrotechnic charge integral to each hinge. The car detects the collision and fires the hinges, allowing for an easy escape.
It is difficult to tell whether this happened here. Obviously, the Mercedes is a complete write off.