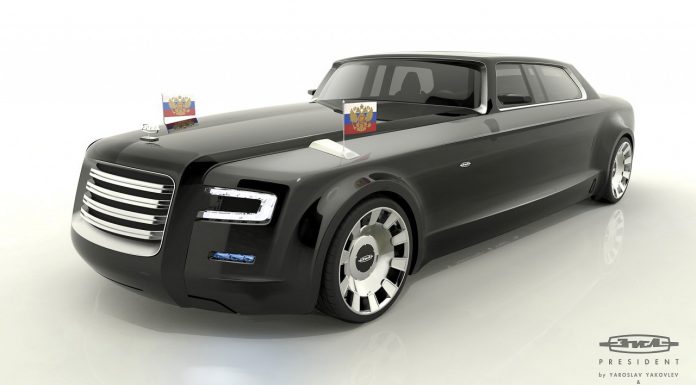 The Head of State of Russia Vladimir Vladimirovich Putin has asked Russian car makers to come up with their best presidential state limousine. Among the top Russian car makers working on the project are ZIL who had are famous for the ZIL-41047 a limousine used by the General Secretary of the Communist Party of former USSR that utilized a 7.7 liter V8 engine. Production of ZIL models ceased in 2002 due to their previous customer base turning to more modern Western vehicles.
According to Carscoop, Putin never liked the ZIL-41047 and this has led to two more car makers taking on the job. Marussia and GAZ. GAZ is developing a luxury model based on the Volkswagen Phaeton and Audi A8 structure, with the car set to be ready for 2014. Marussia on the other hand has received renders from the guys over at CarDesign and the following photos are their Limousine concepts. The winner is expected to be named by May.
Normally, the official state vehicle is an armoured Mercedes S-Class stretched limousine escorted by police motorcycle outriders and a series of support vehicles including the Mercedes G-Class, Mercedes E-Class, standard S-Class models, BMW 5-Series and Volkswagen Caravelle.