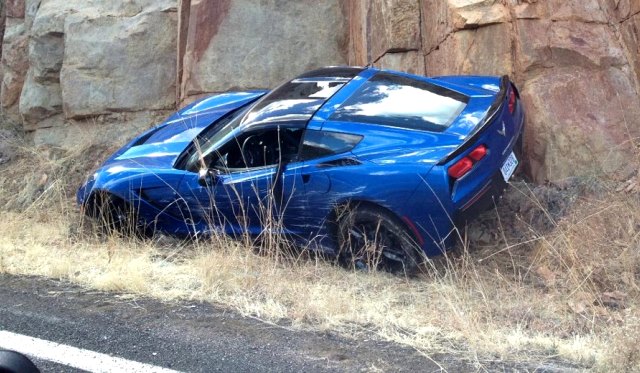 The 2014 Chevrolet Corvette Stingray has only just arrived and is continuing to headline most automotive news sites. It is so new, journalists have not yet been abke to get their hands on it. The last thing we expect though is a crash involving this newly introduced Corvette C7. This is not the case however as Corvetteblogger.com have posted a photo of the Corvette stingray involved in a crash. They found this picture posted by Digital Corvette's member "gpetry" who says a friend in Arizona had emailed the photo to him last week.
The Corvette is one of the three that we showed you some time back. They were the first to appear on public roads, a few days after the Detroit debut.
The details are not clear as to what caused the crash but the description from the source read;
Driving through some mountains in Arizona about 30 minutes ago. In some tight switchbacks when we passed this '14 Vette. Cop had just arrived. Car is in worse shape than looks. Hit guardrail on left and bounced back to rocks.

Somebody had a bad day…
The C7 has 450hp from its new generation LT1 GM V8 engine. As a result, the new car surpasses the previous generation base C6 substantially in every performance aspect and is able to launch to 100km/h in under four seconds, but does this incident raise curiosity of its safety or is it one of those driver mistakes? Well, we only have to wait for more information to emerge.