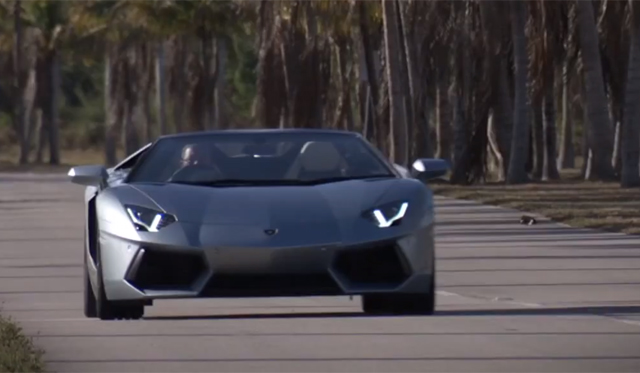 While the Lamborghini Aventador Roadster was recently being shown off in Miami for the very first time as part of the company's ongoing 50th anniversary celebrations, Steve Sutcliffe from Autocar was thrown the keys to Lamborghini's latest supercar and swiftly set about putting the car through its paces on Miami's smooth public roads as well as a local racetrack.
During the video, Sutcliffe points out that one of Lamborghini's proudest achievements when creating the Aventador Roadster was how it managed to maintain the immediacy and precision of the coupe, despite putting on 50kg and losing a little bit of rigidity and based on Sutcliffe's review, it seem as though Lamborghini has certainly delivered on that front.
Amidst all the praise for the new Aventador Roadster, the single-clutch transmission is once again criticised for its precision and brutality in Corsa mode and the continual complaints about the ISR gearbox have got to get Lamborghini thinking about whether ditching a possible dual-clutch system was the right move.
Nevertheless, just like any Lamborghini, the most inspiring piece is the Aventador's massive 6.5-liter V12 engine which delivers 670hp. Even though it may not be as fast as the Ferrari F12 Berlinetta, the Aventador Roadster unquestionably has more road-presence than almost any other car on the planet.