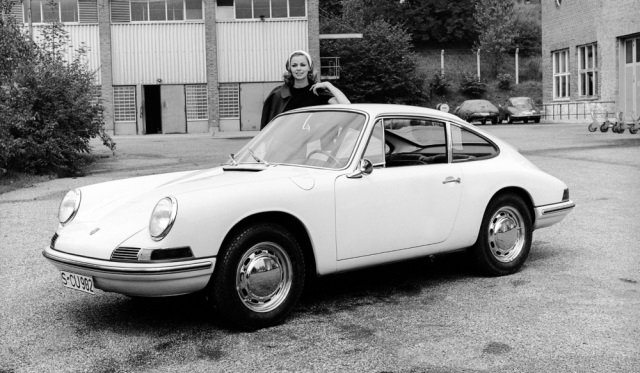 "The 911 is the only car you could drive on an African safari or at Le Mans, to the theatre or through New York City traffic." That's how Ferry Porsche a former Porsche AG designer and Chief Executive Officer described the Porsche 911. Porsche is now preparing to celebrate the 50th anniversary of the 911 model. It originally debuted as the Porsche 901 at the IAA International Automotive Show in September 1963.
Over 820,000 Porsche 911s have been built, making it the most successful sports car in the world. The 911 is the central point of reference for all other Porsche series. From the Cayenne to the Panamera, every Porsche is the most sporting automobile in its category, and each one carries a piece of the 911 philosophy. It has also excelled in racing with two thirds of Porsche's 30,000 race victories to date notched up by the 911.
The first 911 was introduced in 1963 as a successor to the Porsche 356. The G-Series was released in 1973 which was longer and revised to meet the new US crash test standards. In 1988 came the 964 which featured an air-cooled 3.6 litre boxer engine delivering 250hp. In 1993 came the 993 model, this was the last air cooled model, the turbo version was the first to have a bi-turbo engine. In 1997 came the 996 model which was the first to be driven by a water-cooled boxer engine before the 997 rolled off in 2004 where Porsche unveiled the new generation 911 Carrera and 911 Carrera S models.
The latest model introduced in 2011 is the 991 which features a totally new suspension platform with a longer wheelbase, wider track, larger tyres and an ergonomically optimized interior.
So, how will Porsche celebrate the 911's 50th anniversary? They will have "Retro Classics" automobile show in Stuttgart. From 7 to 10 March the Porsche Museum will ring in the anniversary year with four special exhibits, an early-model 911 Turbo Coupé, a 911 Cabriolet study from 1981, a 1997 street version 911 GT1 and the pre-series Type 754 T7.
Another way to celebrate will be sending an authentic 1967 model 911 on a world tour where this vintage nine-eleven will travel to five continents where it will be shown in places like Pebble Beach CA, Shanghai, Goodwood UK, Paris and Australia. As an ambassador for the Porsche brand, this vintage 911 will be in attendance at many international fairs, historical rallies and motor sport events.