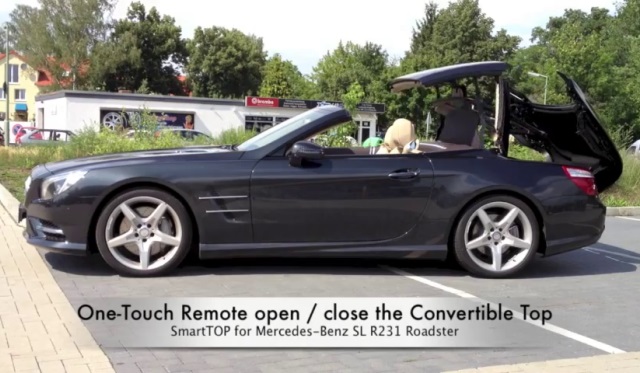 Automotive electronics specialist Mods4Cars revealed a new SmartTop convertible controller for Mercedes-Benz SL R231. It allows drivers to open and close the roof while the car is moving at slow speeds at the touch of a button. The top can be operated from the original key fob remote with one-touch convenience and a custom designed plug-and-play wiring adapter is part of the kit.
The module allows for one-touch control of the top from the original factory remote key fob. A quick key combination on the fob is enough to raise or lower the top. It allows for operations while one is away from the car at a certain distance of course but there are no changes necessary to the original fobs and receiver system.
The SmartTop module features a full set of user programmable features, including a simple way to turn the entire module off while keeping all user preferences. All programming is done via the fully integrated clear text setup menu which displays all options and settings in the dash display. The module is equipped with a standard USB port for quick and easy PC or Mac based configuration and firmware updates which allow for free software updates.
It's also available for the Alfa Romeo, Audi, Bentley, BMW, Ferrari, Ford, Infiniti, Mazda, Mercedes-Benz, Mini, Nissan, Opel, Peugeot, Porsche, Renault, Volkswagen and Volvo. The installation is very simple since it has custom designed plug-and-play wiring adapter manufactured using original OEM quality plugs and connectors and connects the module to the car electronics by simply connecting it in between, no cuts are needed.