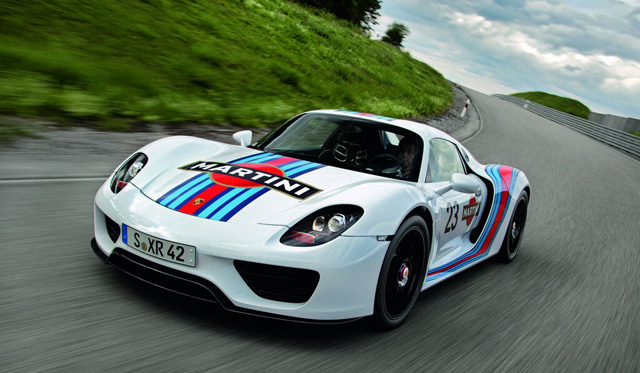 It almost goes without saying that the Porsche 918 Spyder could quite possibly be the most important car released by the German manufacturer in nearly a generation. The hybrid supercar, as leaked in a brochure late last year, will be driven by a combination of electric and traditional combustion engines.
The combustion engine is a 580hp, 4.6 liter V8 originally fitted to the three-time American Le Mans Series LMP2 Championship-winning RS Spyder. Eletric power is supplied by an 80kW lithium-ion electric motor powering the two front wheels. As a package, owners can expect in horsepower figures in the neighborhood of 800hp. The top speed is a reported 325km/h, with 0-100km/h runs coming up in under three seconds and 0-200km/h just under nine seconds.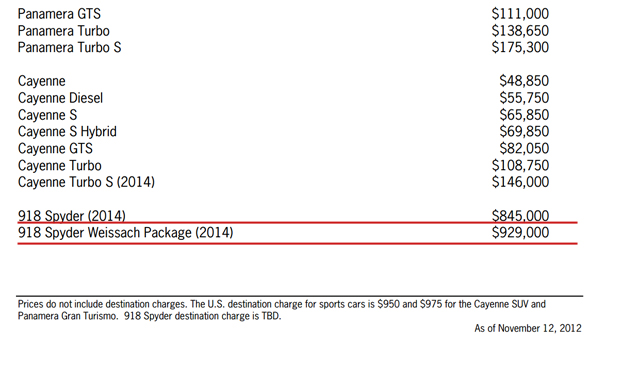 All this performance comes at a hefty price, however. Released in an official pricing document on Porsche.com, the US-spec 918 will come in two distinct packages. The standard 2014 918 Spyder will cost $845,000 USD. With the addition of the Weisach package, expect a base price of $929,000 excluding taxes, fees and delivery charges. A serious price for a serious car. Better start selling the house now, as availablity of the original production run will undoubtedly run into shortages worldwide.
We'll keep you updated as more information is released about the 918. Meanwhile, you can keep up to date by checking out our other stories on Porsche's first hybrid supercar. Check out the pricing document for yourself, right here.