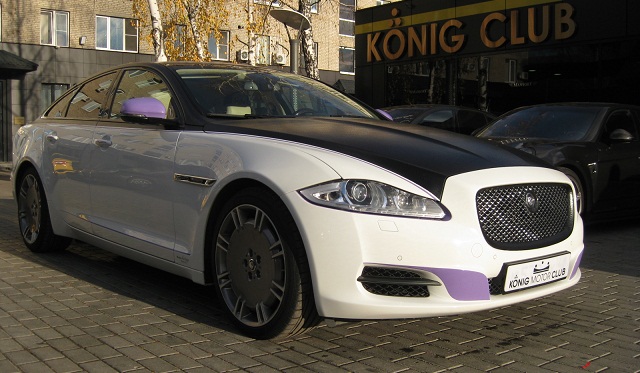 Alligator Leather has in the past been synonymous with luxury. Nowerdays most of us would agree that it doesn't have quite the same attraction. With that in mind, we'd like to condemn this two-tone Jaguar XJ Supersport to our Overkill category.
The XJ Supersport is a fantastic car in its own right. We were lucky enough to experience that first hand at the Goodwood Revival last year. This example should be no different. It actually features power upgrades pushing total power up to an impressive 550hp.
The exterior is where the problem lies. Evidently, the bodywork was originally off-white. The owner has had a couple of personal touches added. The first is a set of garish light blue bumper strips and wing mirrors. Next is the upper alligator leather wrap that runs from the front bonnet to the rear pillars. To top it all off, a union jack decal has been added to the roof!
Its for sale with Konig Motor Club in Russia priced at 4,200,000 rubes which converts to 104,225 euros at todays exchange rate. The advert states that its a 2010 car with 29,350km on the clock. It also states that the questionable colour scheme can be removed, leading us to believe that its a wrap rather than anything more permanent.