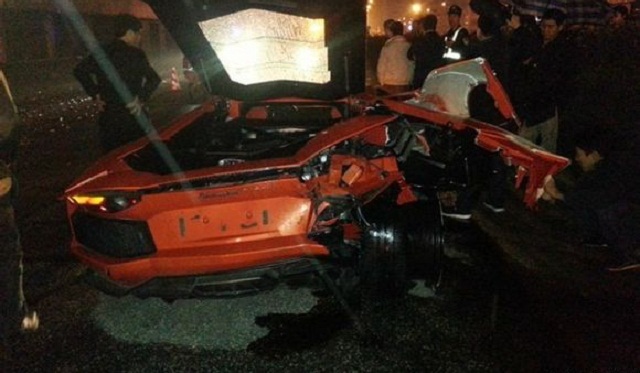 Another Lamborghini Aventador accident happened in China recently. It seems that this orange example was involved in an accident with two other cars, one being a Toyota Prius. The accident left the Aventador with a completely mangled rear right fender.
It seems that the Toyota Prius driver smashed into the rear end of the Aventador. The exact circumstances surrounding the accident are not clear as the pictures were posted without a description.
One thing that is clear just from looking at the pictures is the extent of the damage. It looks as though the impact was particularly heavy. Oil was left at the scene of the accident and the entire read end looks very distorted. Chances are that the repairs will be very expensive.
We're not sure if either driver sustained any injuries in the accident although we suspect there wasn't. This isn't the first Lamborghini Aventador accident we've reported on this year. We've already seen a white example with some light front end damage, a matte black example stuck in a gravel trap and a black example with light damage in Florida.