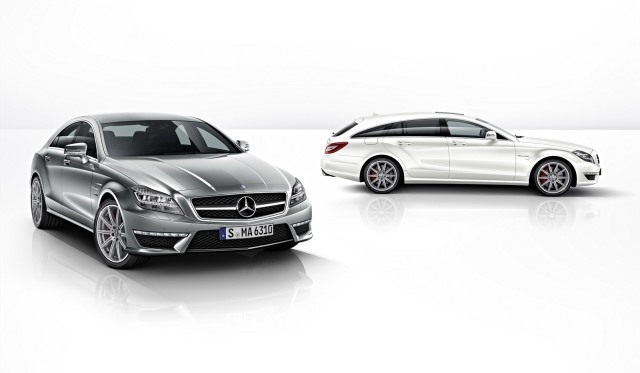 Daimler-AG showed a barrage of products during the 2013 Detroit Motor Show among them being the 2014 Mercedes-Benz E63 AMG 4Matic and the 2014 Mercedes-Benz CLA 250. They have also announced plans for the CLS 63 AMG, which will get the same treatment as the E63 AMG. This means it will get an all-wheel drive system, engine upgrade and a new S Model in the lineup.
Let's break these facts down, the 6.2 liter V8 engine will be replaced by a twin-turbocharged and direct-injected 5.5 liter V8 rated at 550 horsepower and 531 pound-feet of torque that is an impressive increment from 518hp and 516lb-ft, respectively for both in the four-door Coupe and five-door Shooting Brake variant. It is the same powerplant as in the 2014 E63 AMG.
The S-Model will be introduced as a replacement of the former AMG Performance package. The new model gets an even better tweaked V8 developing 577hp and 590lb-ft of torque. The package details higher-pressure injectors, a bump in boost and an updated ECU map while mated to a seven-speed automatic. There is an optional 4MATIC all-wheel drive and 402mm carbon ceramic brake kit.
All is not lost for those in love with the rear wheel drive as the new all-wheel-drive system is biased toward the rear wheels and has a fixed 33/67 torque split. The S-Model also features a mechanical rear limited-slip differential.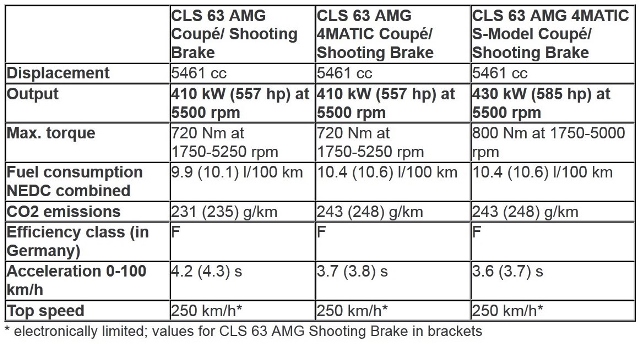 The updated CLS 63 AMG does a 0-100km/h sprint in 4.2 seconds and 3.7 seconds for the standard rear and all-wheel drive saloon respectively and 3.7 seconds for the more powerful S-Model. The RWD Shooting Brake is 0.1 seconds slower. These figures are identical to the E63 AMG 4Matic.
Buyers will get their CLS 63 AMG Coupe and Shooting Brake models in April in standard, rear-wheel drive guise, whilst the 4Matic and S-Model option will be available in June.