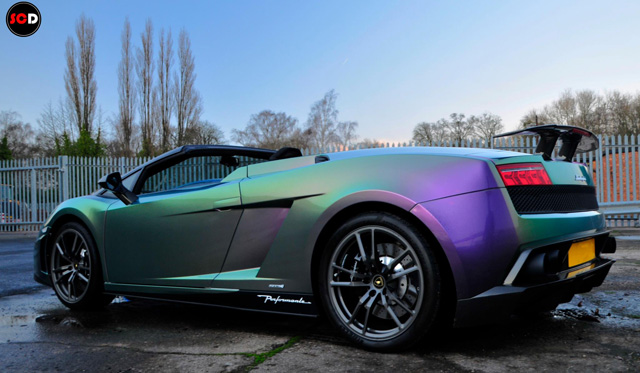 Wrapped Lamborghini's are nothing new to us at GTSpirit. Wrapping is becoming an ever-popular option when compared to the price of a full respray. However, the wrap fitted to the Lamborghini in the video below is quite out of the ordinary, even in the world of exotic cars.
Normally when seeing a wrapped supercar, one would expect a simple color change or at the very most a matte wrap of some sort. Not here! The Gallardo LP570-4 Performante, while rare enough in and of itself, was made a bit more exotic by its owner who decided to wrap the car in a suitably exotic color scheme mimicking the iconic flip paint style seen recently on the TVR brand. The color changes depending on the sunlight, reflecting blue, green and even purple in the right light.
In addition to the wrap the car has also received an Larini exhaust system, but otherwise has stayed relatively stock. Well, as stock as a car can be with such a loud wrap.
Check out the video for more on the Gallardo, which was made just a bit more exotic with the simple addition of a bit of vinyl and glue. We think it looks pretty cool as a temporary fixation, but what do you think?