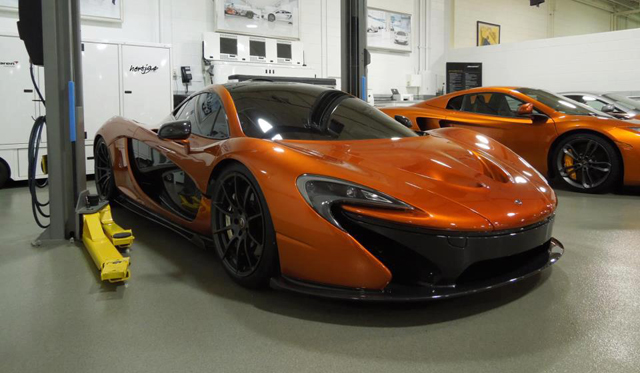 McLaren's P1 was recently unveiled at a private gathering in New York City where a company spokesperson revealed that the concept car was 97 percent the same as the future production car would be.
Consequently, McLaren have continued to show off the new P1 supercar across the United States in order to drum up more orders and the car was recently captured at an exotic car dealership in Illinois catering for everything from Aston Martin, Ferrari, Lotus and McLaren.
The following picture was taking in the workshop of the dealership with this particular P1 predicted to be the identical unit as the one which debuted at the 2012 Paris Motor Show. The car, just like the MP4-12C pictured behind in this picture is finished in a dark shade of Volcano Orange, riding on 10-spoke blacked-out wheels.
Although McLaren has yet to release any performance specifications for the P1, it's predicted to directly rival the Porsche 918 Spyder and Ferrari F150 and consequently should produce well over 800hp.