Ferrari presented numerous racing versions of their V8-flagship, the 458 Italia. There is the 458 Challenge for Ferrari's spec racing series, the 458 GT2 that competes in the GTE class at Le Mans and the FIA WEC, the 458 Grand Am that campaigns in the US, and the 458 GT3 that has taken various trophies at a huge variety of sportscar racing series around the world.
A prototype of the updated 458 GT3 took to Adria International Raceway in Italy for some testing. The test, organized by Ferrari's Corse Clienti department, along with motorsports firm Michelotto Automobili, was aimed at evaluating many of the car's updates.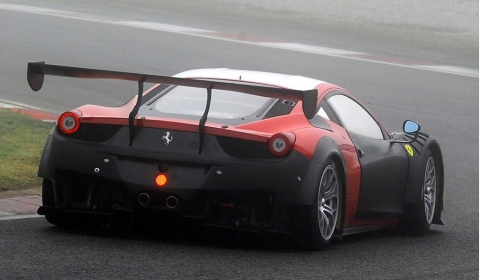 With the latest updates, Ferrari has been preparing for the next season. The 2013 Ferrari 458 GT3 will benefit from optimized aerodynamics to keep it out in front of such rivals as the McLaren MP4-12C GT3, Mercedes-Benz SLS AMG GT3 and Audi R8 LMS Ultra.
It can be identified by its widened fender, a huge GT wing and an aggressive body kit. Its engine has a redline of 9,000 rpm, a limited output of 550hp and it gets a special sequential transmission.
Check more spyshots at MotorAuthority.com!