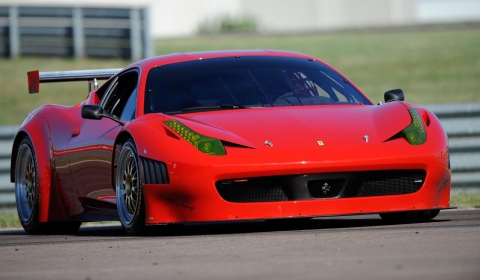 The Ferrari 458 Italia Grand Am was given its track baptism at the Fiorano circuit. The car has been developed in conjunction with Michelotto Automobili, based on the GT3 version of the V8 Ferrari berlinetta, with the aim of racing in the famous North American series.
The 458 Grand Am is built to match the American regulations and is therefore different to the European car, especially in that it develops 500 horsepower and has less efficient aerodynamics than the GT version. It is also fitted with a 48mm restrictor and maximum revs are 8000.
Significant modifications have been made to the braking system, as the car has neither ABS nor traction control. Other differences to the GT3 include the roll-over bar which gives greater lateral protection to increase safety in a series in which collisions are rather more frequent.
The car is fitted with tyres from Continental, the sole supplier to the series, featuring a very hard compound, again to conform with the series regulations. On its shakedown today, it completed a good number of trouble-free laps, 45 to be precise in the hands of Maurizio Mediani and Jaime Melo, as they took turns at the wheel.