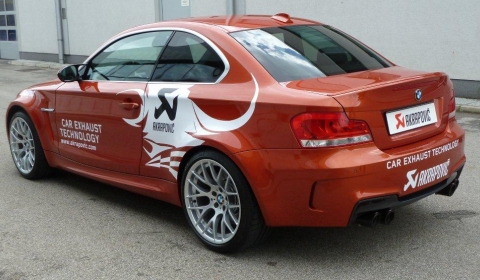 Akrapovic has finally released the official information with respect to the exhaust system for the BMW 1-Series M Coupe. The complete line-up includes a slip-on system, Evolution system, carbon fiber tail pipes, wireless kit and down pipe.
The exhaust specialist from Slovenia has tested the full system on the current MotoGP safety car and together with TechTec. For the road-going 1M an Akrapovic Slip-on system and complete Evolution System in titanium were developed. The systems do not only deliver more power and torque, but also give the car a more spectacular sound. In addition, the power is more balanced and the car responds more directly. The Evolution system delivers +20hp and a weight saving of over 20kg.
The four titanium or carbon tail pipes have a diameter of 100mm. Next to the Akrapovic exhaust system an optional down pipe is available providing extra power. The remote valve kit allows the driver to select the appropriate sound level via a remote control inside the car.
The exhaust specialist also released the prices for the systems. The BMW 1-Series M Coupe Slip-on system swaps owner for € 1,514, the Evolution system is € 3,169 and the carbon fiber or titanium tail pipes are € 990. The remote valve kit and the down pipe cost each € 590. All prices are without VAT.
As a surprise Akrapovic stated to us that all 135i models up to model year 2009 will be able to fit each of the parts mentioned here, similar to the baby M Power model. Model series 2009 and higher can only fit the slip-on kit and not the full Evolution system.
The brand new exhaust systems for the BMW 1-Series M Coupe and 135i are available from September onwards.