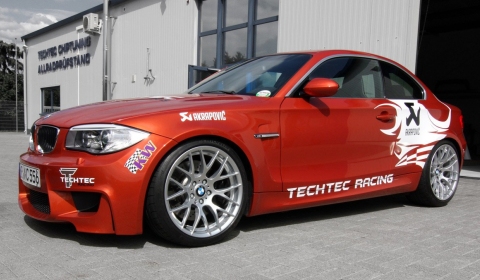 The release of an Akrapovic prototype exhaust system for the brand new 2011 BMW 1-Series M Coupe has been reported here before. The development of the prototype exhaust is done in cooperation with Germany-based company TechTec. Next to the prototype exhaust they were working on a power upgrade for the engine and a KW suspension kit.
The upgrade can be done in stages. The first stage will cost you 1,500 Euros and brings the power output from 340 to 380hp and the torque from 450Nm to 580Nm. A rather modest upgrade if you ask us. Stage 2 adds another 1,000 Euros giving you an additional 20 more horsepower. So 400hp in total.
The final stage number 3 includes a different air cooler – costing you 800 Euros – creating a whopping 450hp and 630Nm.
With Stage 3 installed the TechTec BMW 1M is said to run to 100km/h in just 4.1 seconds, with the speed delimiter being removed. Top speed is unknown, but we expect it is higher than 300km/h.
[Via Bimmertoday]