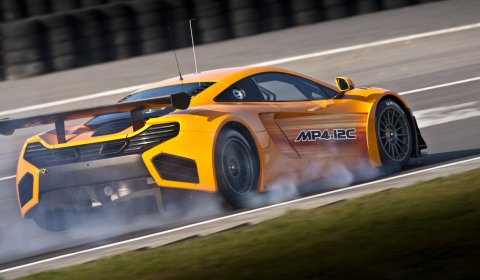 McLaren revealed today their racing version of the MP4-12C roadgoing sports car, called the GT3. The McLaren MP4-12C GT3 was announced back in December, but today we can show you a video and a series of pictures of the new racer in action.
The GT3 version is a collaboration between McLaren and CRS Racing. It's built on the same, 75kg, carbon MonoCell chassis as the street version of the McLaren MP4-12C, but it comes with race specification composite body panels and a fixed rear wing.
The racer is powered by the same 3.8 liter twin turbo V8 engine linked to a new bespoke paddle-shift system and an all-new Ricardo-designed gearbox. Additionally, the MP4-12C GT3 comes with new electronics, Akebono brake calipers and a Bosch Motorsport ABS.
The aero package of the GT3 includes a new front splitter, door blade, diffuser, rear wing and louvers in the front fenders. The engineers also replaced the proactive Chassis Control System of the standard MP4-12C with race-specific roll bars and dampers due to regulations.
Currently, the McLaren MP4-12C GT3 is undergoing trials on the MIRA and Silverstone race tracks in UK.