Having tested the McLaren MP4-12C to its limits several times over the past year, we can confidently say that it is one of the best supercars on the market!
We're not alone in that either. Owners seem to love their cars too! We thought that we would present you with a summary of the different colours available for the MP4-12C, both as standard colours and as McLaren Special Operation or aftermarket options.
Standard Colours
The standard colour palette is made up of fifteen colours, this increased earlier on in the year when McLaren introduced the MP4-12C Spider. The standard colour palette is further divided into three different groups; Standard, Special and Elite. The standard colours include a solid white, a solid daarker shade of blue and a solid silver. They are images seven, eight and nine respectively in the gallery above.
The next step up is the Special colours, a mix of metallic and further solid colours. They include a Titanium Silver, Graphite Grey, Carbon Black which is a solid back shade, Sapphire Black which is a lighter shade of black, Azure Blue, Mercury Red and the iconic McLaren Orange. These colours are the first six colours of the above gallery, in the same order as above.
The final set are the Elite colours. These include Pearl White, Supernova Silver with a heavy metallic particle, Ice Silver with lighter metallic particles, Fire Black with an orange metallic particle under a black paint, Volcanic Orange, Volcanic Red and Volcanic Yellow. These are photos ten to fifteen of the galleries respectively.
Special Colours
McLaren will build special editions with unique colours for customers too. We've seen several noteable examples already. In the gallery you'll spot variety of different matte options including two matte grey colours, a matte black, a Matte Volcano Orange and a satin finish yellow. To go with these, we also have Protective Solution's clear coat wrap.
Paint colours applied to the MP4-12C include a British Racing Green example on Monaco plates, an accented orange and grey scheme and an accented Rocket Red and silver car built by McLaren Special Operations. We found pictures of an alleged Rosso Corsa painted MP4-12C, another McLaren Special Operations car with a carbon hood, a Verde Ithaca car and the bespoke Project 8 car!
The tuner cars we've featured above include the stunning Hamann memoR MP4-12C Art Car with a unique wrapped design, its 'standard' sibling the Hamann memoR we spotted in Monaco and Geneva, the FAB Design Terso in black, white and gold, the blue Gemballa MP4-12C and the orange and gold Mansory 12C.
We've also seen a couple of wrapped cars. The Taylor Lynn Foundation McLaren MP4-12C that did GoldRush this year is the obvious example. We've also got photos of McLaren Birmingham's MP4-12C with a wrap covering red paintwork, a wrapped orange and silver Vodaphone liveried car and Newport Beach demonstrator wrapped in Chrome. You'll also spot a number of cars with stripes and accent wrapped areas.
We've included McLaren's latest design named the Beklebter MP4-12C Frank Becker. It's wrapped in a London livery for a customers 3,000km journey through Germany, Austria, and Switzerland!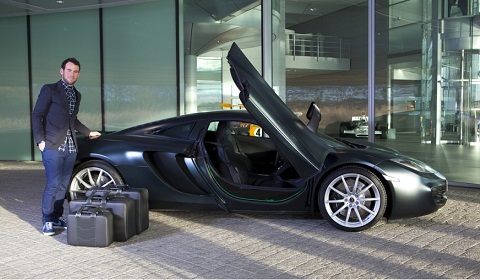 The final car we want to draw your attention to is the very last photo in the above gallery. Last week, we're told that Mark Cavendish visited McLaren's woking factory as McLaren work with bike manufacturer Specialized. During his visit he was presented with the 'Cavendish Green' 12C that you see in the photos. Cavendish Green is a satin black colour with a green metallic flake.
Of course, if you want to read our opinion of the McLaren MP4-12C then you can read our road test, our experience of the car in Spa earlier this year or even our first drive of the 12C Spider at Ascari! Special thanks to blackhole522, Mick Dobrofsky, Willem de Zeeuw, Dylan King, German Exotics, Enzo Lo and Tomirri Photography.