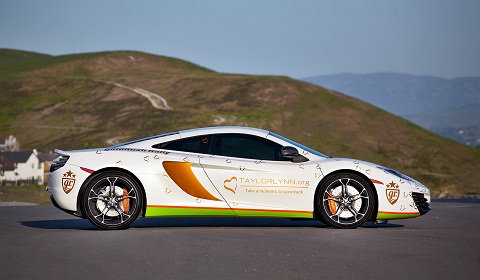 The countdown to GoldRush 4 has officially began. With just 31 days to go we already have pictures showing one of the first vehicles wrapped for the rally. It's the Taylor Lynn Foundation McLaren MP4-12C! You might remember this particular McLaren from our post last week. It has been donated for use by GoldRush official charitable partner, the Taylor Lynn Foundation, for use on the eight-day rally.
Over the weekend the McLaren MP4-12C received the unique wrap it will wear for the event. Itzkirb kindly offered his photography services and now we can share first photos with you! In truth though, it is still a work in progress and you can help complete it. For every $ 100 donation received, a gold heart will be added to the McLaren MP4-12C livery. As you can see, plenty of gold hearts have already been added. Yet there's still too much blank space for our liking.
The Taylor Linn Foundation offers 'microGRANTS' to children to give them the opportunity to participate in an activity or function that they would not be able to otherwise. The charity was created in memory of Taylor Linn who died unexpectedly of a rare type of brain aneurysm in March 2008. The idea was to create something that would benefit a large number of young people rather than a small few, making donations reach further than they would otherwise have done. The children are encouraged to give back to their community through their own volunteer efforts. One hundred percent of all proceeds received for the Taylor Lynn Charity car will go directly to children in need creating a positive impact in their lives.
It's the second year that the Taylor Linn Foundation has partnered with GoldRush rally. This years event takes participants from one side of the US to the other. The rally will start on June 9th in Los Angeles and will finish a week later, June 16th, in Miami. Checkpoints on the west coast route will include Phoenix and Sin City. From there all participants will travel by plane to the east coast of the United States to start the second stage of the rally in Atlanta. The second stage will then travel to Panama City before heading over to Orlando and on to the finish line in Miami.
It promises to be an excellent event this year. As with every year, we will bring you full details so stay tuned for more information! To donate to the Taylor Linn Foundation, please visit their website. Hopefully, by the time the rally comes around, there won't be a patch of white to be seen!