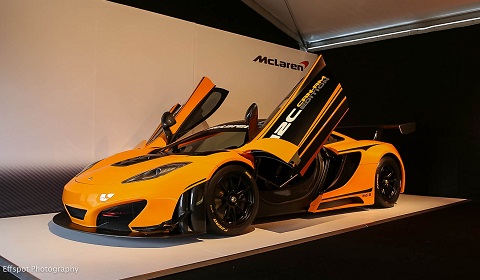 Following the premiere of the one-off design study at the Pebble Beach Concours d'Elegance earlier this summer, at an event ahead of the 2012 United States Grand Prix at the Circuit of the Americas, McLaren GT has confirmed plans for a limited production run of the track-focused 12C GT Can-Am Edition.
McLaren GT, the race car manufacturing arm of the McLaren Group, will produce no more than thirty examples of the 12C GT Can-Am Edition. Each will be fitted with an unrestricted version of the 3.8 liter twin-turbo V8 engine with a special engine calibration, and optimised cooling system to increase the power output of up to 630hp, making the 12C GT Can-Am Edition the most powerful 12C produced to date.
The aerodynamic package includes a carbon fiber front splitter, carbon fiber dive planes, and a carbon fiber wing. The wing is held in place by polished aluminium mounts. A carbon fiber diffuser helps to further maximise the aerodynamic package, fitted beneath the two-tone rear bumper. The braking system by Akebono sits behind a set of black satin-finished forged lightweight racing alloy wheels, shod with Pirelli racing slick tyres which complete the exterior revisions.
The 12C GT Can-Am Edition is also fitted with a full FIA-approved race-specification rollcage. Inside the cockpit are two black race seats, complete with full six-point harnesses, and a McLaren GT steering wheel carried over from the 12C GT3 race car. The shape and grip of the steering wheel is derived from the McLaren MP4-24 Formula 1 car. An integrated motorsport air conditioning system is incorporated into the bespoke lightweight carbon fiber dashboard adding a touch of racer comfort.
Buyers of the 12C GT Can-Am Edition will also be able to benefit from bespoke support packages from McLaren GT. The 12C GT Can-Am Edition will be strictly limited to a production run of no more than 30 cars, costing £375,000. Each will be built at the new home of McLaren GT in Woking, with production commencing from March 2013.