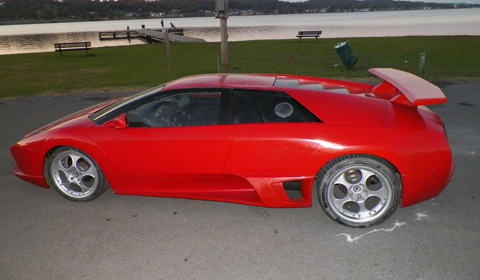 Earlier this week we brought you news of a Chinese farmer who took it upon himself to build a replica of his favorite car, the Lamborghini Reventon. Another poorly created Lamborghini replica has cropped on our radar once again, this time on popular auction site eBay.
Earlier this week, a replica Lamborghini Murcielago based on a Toyota MR2 was listed for sale by eBay user pinkclean7. After entertaining eleven offers from users around the world, the Alabama native's auction ended early yesterday without a buyer. According to the listing, the car is based on a 1991 Toyota MR2 twin turbo, with all basic accoutrements such as air conditioning, cruise control and stereo in good, working order. Various other sundry additions include an in-dash DVD entertainment system.
Bodywork was presumably fabricated by CarKitInc, a kit car fabricator located in Albertville, Alabama. A Lamborghini inspired rear spoiler accents the trunk, with real Lamborghini wheels on all four corners (really?).
According to the CarKitInc website, the kit for a Lamborghini Murcielago, similar to the one listed for sale runs a hair shy of $5000 USD. Various other replicas appear to be available including various Ferrari's, Porsche's and even a poorly done Reventon. Maybe that Chinese farmer should have just called these guys up. It couldn't look any worse, right?