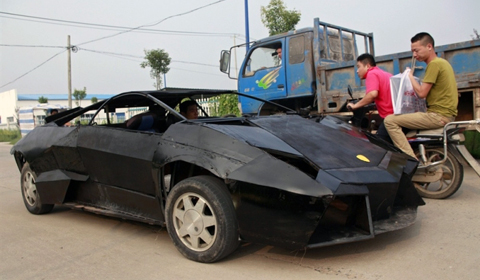 The Lamborghini Reventon, certainly one of Lamborghini's most elaborate and expensive creations, also happens to be one of the rarest. At a total production run of just 21 examples, the Reventon can claim all of its original 2 million dollars asking price. However, as is the nature of cars of such a rare nature, those not included in the lucky 20-count have to seek alternate means to fulfill the want of owning the "un-ownable".
And look no further than China for one of those exact men. In China's rural eastern province of Jiangsu, 28-year-old Wang Jian has created one of the, if not the only, working replica Lamborghini's ground-based strike fighter. Wang reportedly spent 60,000 yuan producing what can only be described as a creative interpretation of his dream car. The replica is a composite of parts, with engine and bodywork scraps provided by old Nissan vans and Volkswagen sedans.
Having trained to be a mechanic since age 16 (now 28), Wang always "wanted to manufacture a supercar [himself], researching and designing it on [his] own." A step in the right (wrong?) direction, certainly. And without windows, passenger seats or interior, Wang still has a ways to go in honing his design and technical skills. But if all he plans on using it for is hauling fertilizer around his parent's farm, why not do it in a knock-off Lambo? No word on whether he plans to try and get it legalized for the road. Also no word on if Lamborghini lawyers will even bother.
A boyhood poster this most certainly is not. More pictures available here.