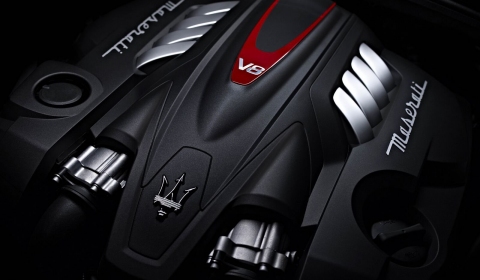 New information regarding the engine lineup for the 2013 Maserati Quattroporte has been released by an Italian online magazine. The website revealed that the new Quattroporte will get two different petrol engines; a V6 and a twinturbo V8. The engines are entirely made out of aluminum and are equipped with a direct injection.
The first engine is a 3.0 liter V6 powerplant, which produces 410bhp and is available with rear-wheel drive as well as four-wheel drive. The Quattroporte V6 with RWD will speed to 100km/h in five seconds and has a top speed of 285km/h. The V6 with AWD does the sprint in 4.9 seconds and 284km/h.
The second engine is a 3.8 liter V8 engine producing 530bhp. 100km/h is achieved after 4.7 seconds and if you will be able to reach 307km/h. Both the V6 as the V8 will be available with an eight-speed automatic gearbox by ZF. A diesel engine has not been mentioned in the initial documentation, but rumors suggest a release in a later stadium.