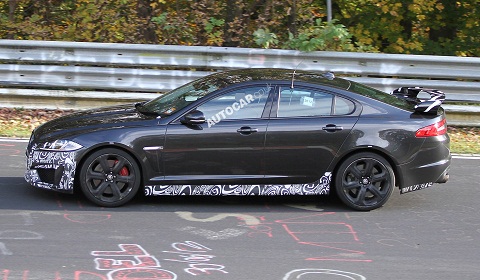 The Jaguar XFR is one of our favourites. It's understated, elegant and fast. Yet Jaguar are conscious that the super-sedan market is always moving forward, which is why the XFR-S will probably debut in the not too-distant future.
As you would expect, the XFR-S will use the same supercharged 5.0 liter V8 as the rest of the 'R' branded cars. This will be upgraded to feature the same 550hp power figure as the XKR-S. Expect the chassis to receive a bit of work too. The XFR-S is seen testing in these pictures at the Nurburgring. Jaguar have their own facility located almost at the entrance.
We expect the Jaguar XFR-S to make its international debut at this month's Los Angeles motor show. For a full set of images, visit Autocar.