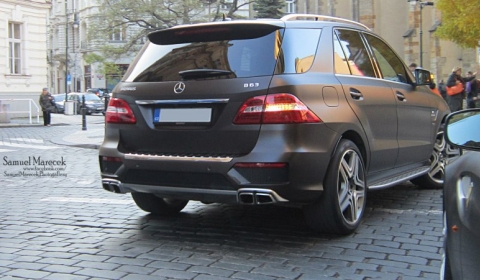 Samuel Marecek spotted this 2011 Mercedes-Benz ML 63 AMG tuned by Brabus. It is the first time we see a B63 based upon the new 2011 ML Class on European roads. The Brabus B63 was spotted in Prague, Czech Republic.
Looking at the three photos in the gallery below, we can clearly see that the owner did not fit any wheels or body kit from the German tuner. He clearly only upgraded the engine to the B63 setup and fitted a matte black wrap. It is unknown if the owner changed the interior.
Brabus offers five different power upgrades for the 2011 ML 63 AMG, which feature two different power levels and two different top speeds. The customer can opt for 585hp and 760Nm (+60hp/60Nm) or 620hp and 820Nm (+63hp/60Nm) depending on the availability of the performance package. You can also opt between a 280km/h or 300km/h top speed. The B63 goes from naught to 100km/h in 4.5 seconds.