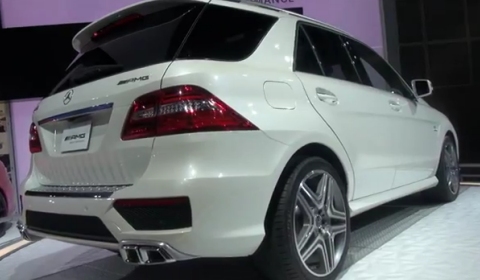 German car maker Mercedes-Benz released the 2012 Mercedes-Benz ML 63 AMG last week. The Germans officially revealed the new ML 63 AMG at the Los Angeles Auto Show 2011.
The AMG 5.5 liter V8 biturbo engine has an output of 525hp and a torque of 700Nm, representing an increase of 15hp and 60Nm over its predecessor. The available AMG Performance Package boosts the V8 engine's power output to 558hp and its maximum torque to 758Nm. Acceleration from zero to 96km/h (60mph) takes 4.7 seconds and 4.6 seconds respectively, while the top speed remains at 250km/h (electronically limited) and at 280km/h with the AMG Performance Package.
The ML63 AMG comes with 20­ inch five-spoke alloy wheels painted in titanium grey with a high-gloss finish and fitted with 265/45 R20 tires. Also available are optional 295/35 R21 tires on 21 inch AMG alloy wheels. The 2012 Mercedes-Benz ML 63 AMG will be available in Q1 2012.
Official pictures Mercedes-Benz ML 63 AMG