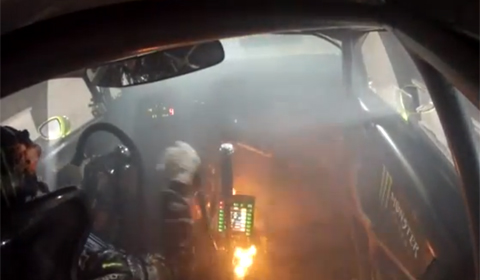 SEMA 2012, the largest industry convention for all things aftermarket and go-fast, played host to a round of the Global Rally Cross Championship early this week. Rally drivers, the likes of hoonage hero Ken Block and Tanner Foust were in attendance, both skilled rally drivers in their own right.
After qualifying first for all three heats leading up to the final event, Ken Block looked liked a surefire candidate for the top step of the podium. However, his view of the top step became a little less clear on lap 5, as a fire broke out in the cockpit, just under the center instrument panel. Despite the fire, Block continued on for a number of laps, apparently ignorant of the flames destroying the inside of his race-prepped Ford Fiesta.
The race would eventually be won by Tanner Foust, with Block failing to finish due to the aforementioned cockpit fire. While savvy internet speculators are quick to suggest the entire event is staged, the video is impressive whether a PR stunt or not.
Take a look at the video below and tell us what you think. Block is a master of marketing, whether planned or not.