A rather strange incident happened last weekend. A brand new Ford GT, only recently delivered to its owner in Munich, Germany, caught fire. The German police are speculating that the fire was caused by a technical defect and have confirmed that the 52 year old driver and his son escaped the vehicle without damage.
The Ford GT was said to have just 43 miles on the odometer when the fire broke out. Its unclear what the car was doing at the time, whether it was parked or on the move. Either way, the damage seems catastrophic with the entire engine bay incinerated by the fire. It is almost certainly a write-off.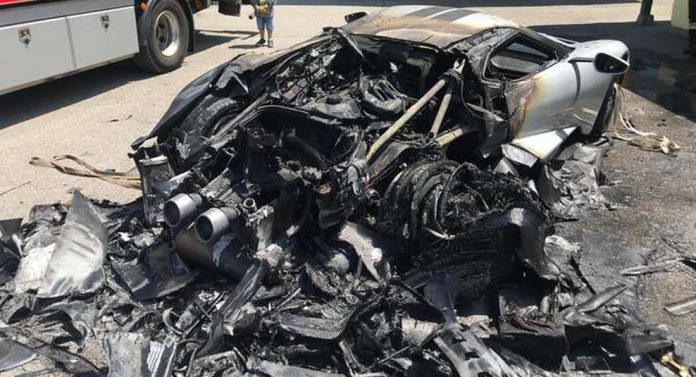 Our colleagues over at MotorAuthority have contacted Ford for a statement on the fire, they quote a Ford representative as stating: "We have been made aware that a new Ford GT caught fire in Germany. At this time, we do not have any further details on the cause of the incident, so we are unable to comment further. We understand that there have been no injuries related to this incident. Our engineers are working with the owner to understand more about the cause."
We can't recall any previous instances of the new Ford GT catching fire so we suspect that owners have little to worry about in this respect. Ford have delivered a fair number of these cars to customers already. If there were problems, Ford would likely have had more reports already.
This fire may have been prevented with an aerosol fire suppression system.