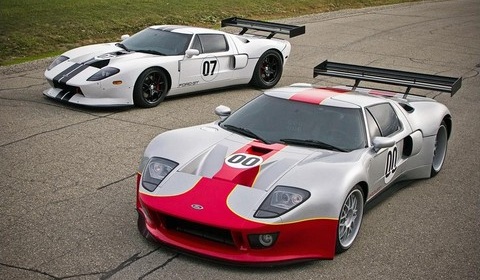 RH Motorsports and The GT Guy LLC have decided to combine their expertise to build Ford GT1 and GT3 Street Legal Supercars. They have have announced two variants, Ford GT1-S and Ford GT3-S.
Only a limited number of twenty turnkey Ford GT1-S models will be made. Each one will be completely unique offering any type of interior modification and engine output. The customer can choose anything.
The basis engine is a performance of 760hp from the standard Ford GT supercharged 5.4 liter V8 engine. For those asking less, you can opt for a 600hp kit removing the supercharger, but a 1,000 HP twin-turbo setup is also available. Standard interior trims come in carbon fiber and alcantara.
The Ford GT3-S on the other hand is meant for those who already own a Ford GT supercar. The tuning package will still give customers the same kind of freedom of choice in terms of engine power or interior or wheel size. Running prototypes of both models were showcased at NOLA Motorsports during the annual Ford GT rally. Pricing details will soon be released.