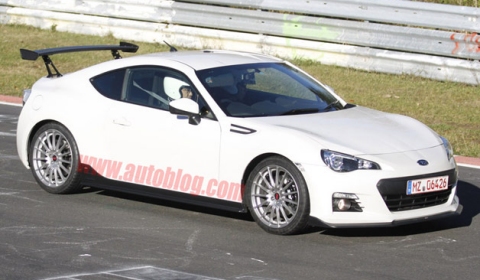 With Subaru's latest offering, the BRZ selling out across dealers across the United States, even with quite large premiums, Subaru has been spotted testing their 2014 successor to the BRZ. The spyshots are telling of a higher performance variant, for two reasons: an STI badge is clearly visible and the overtly placed rear wing over the rear axle.
Multiple sources, including Autoblog are reporting the 2014 BRZ STI could be offered with Subaru's in-development turbo variant of the current BRZ boxer engine. The spyshots depict a more aggressive stance, including altered front and side aerodynamic/aesthetic pieces. While the rear wing may look impressive, it doesn't appear to be in a production ready state. Subaru could be testing the option of adding an optional rear wing in place of the lip currently available on all BRZ's.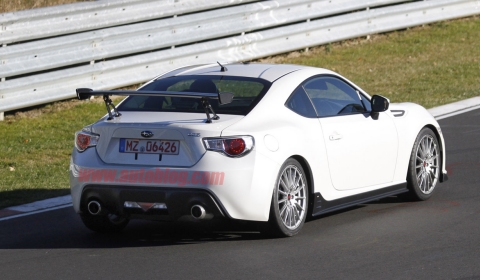 Power is rumored to be around the 250hp mark, as Subaru wants to keep their STI badged BRZ below the performance benchmarks of the WRX and WRX STI. Expect to hear more in the coming months, as more rumors are put to bed. But for now, take a look at the spyshots over at Autoblog.