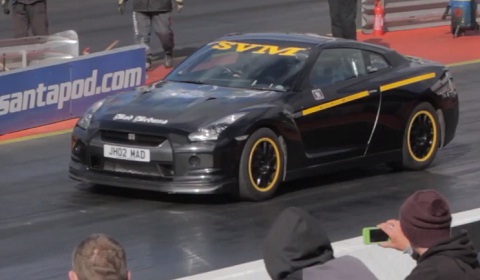 While, the AMS Alpha Omega appears to be the fastest GT-R stateside, Europe appears to be catching up quickly. Severn Valley Motorsport recently timed their 'Mad Medusa' package for the R35 GT-R over a quarter mile. The time? A very impressive 8.93 second run over a quarter mile with a 168.56mph terminal speed.
The time was set at Santa Pod with owner, John Hanton, at the wheel. It's slightly short of what's believed to be the world record (the AMS Alpha Omega's 8.62 second run at 173.81mph), however, this GT-R runs with the stock sized 3.8 liter engine, the AMS car runs with a 4.0 liter version of that engine and the SPE alternative runs a 4.3 liter engine.
Severn Valley Motorsports aren't finished though. They set sights on the world record for the Mad Medusa, their 1,400hp GT-R!