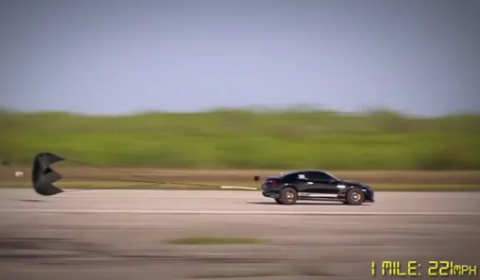 After smashing the GT-R 1/4 mile record at the TX2K12 with an 8.62 at 173.81mph pass, the Alpha Omega GT-R went straight to the Texas Mile in an attempt to reset the GT-R top speed record of 218mph. The team wrote a report of the whole event at the end of March and we are able to share it with you now.
The event started on the Friday. The morning was spent preparing the Alpha Omega for tech inspection. A 1/2 mile shakedown pass was performed early afternoon. With much more power than what they had worked with last October, the Alpha Omega was literally flying down the track. Nonetheless, Ivan Phipps, the projects technician and driver for the Alpha Omega kept at it – pulling a 221mph top speed late Friday afternoon which was enough to claim the record!
With the absence of wind Saturday morning, the decision was made to press on. The Alpha Omega only used approximately 1050whp of its available 1600whp on Friday's record pass. With approximately 1250whp dialed in, the crew wanted to see if the car could at least break the 230mph barrier before heading home for the weekend.
On Saturday's one and only pass down the Mile, Ivan was able to get the Omega to the 1/2 mile marker with a speed of 197mph. The car ran loose with stock aero and absence of a rear wing, but the throttle remained pegged to the floor. Ivan passed the 1 mile marker at 233.1mph.
It was a new record for the R35 GT-R, but not without a hitch. The Omega hit a dip in the runway past the mile marker which caused it to bounce. Combined with the effect of the parachute, the force was enough to lift the rear wheels of the Omega off the ground. When the car rebounded, it lost control, sliding more than 90 degrees sideways.
We plan to continue testing the limits of the GT-R platform with improved aero and a final drive gear.