The Mercedes-Benz World Brooklands dealership is an unique place in the automotive world. Acting as a dealership in the area of Surrey, United Kingdom, it offers way more than sales and displays of the current Mercedes-Benz line up of passenger and AMG cars.
The building situated next to the Brooklands Museum features its own track for driving experiences and driver's trainings, a large shop, and conferencing and hospitality possibilities. The Café 1886 and the Gullwing Restaurant offer customers and visitors the change to get some refreshments.
The main building of Mercedes-Benz World has three floors each providing a display of current cars and the history of the Mercedes brand. At the time of our visit a historical SL Class display was shown, parked next to a dark grey Mercedes-Benz CLK GTR Roadster and a gold-plated G-Class. The displays change over time and follow a special event calendar.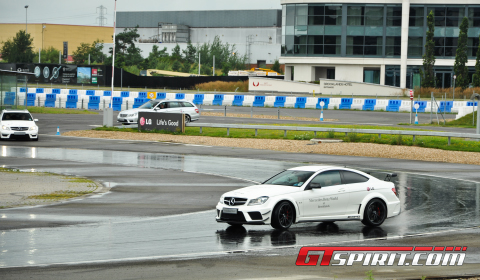 Outside the dealership, the Germans altered the original airport layout into a track with driver training facilities. You can get hands-on driving experiences – for adults and kids – as well as hot laps, passenger rides and precision driving displays by the Silver Arrows Display team. There is a wet skid circle, handling circuit, wet straight and a ten-acre off-road terrain.
There are many special experiences ranging from 25 pounds to 1,000 pounds. We spotted the following; Black Series Driving Experience (driving the new C 63 AMG Black Series), SLS AMG Driving Experience, SLK 55 AMG Driving Experience, Ultimate SL Driving Experience (driving all SL Class ever build), AMG Driving Experiences (driving a number of current AMG cars), 4×4 Driving Experience in the ML 63 AMG, Mercedes-Benz Experience (driving a number of current Mercedes-Benz cars), and the Kids' Driving Experiences, which offer youngsters the freedom of being behind the wheel for the first time under the guidance of a professional driving coach.